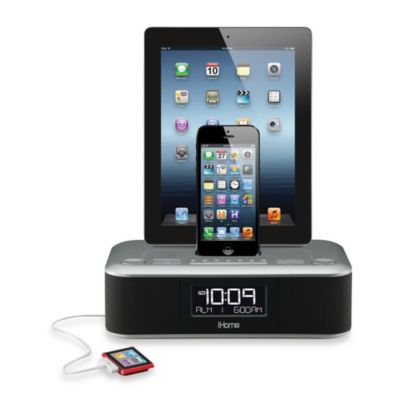 iHome® iDL100 Triple Charging FM Clock Radio
Price:
$139.99
Brand:
iHome
Categories:
Listen to your music while charging up to 3 devices at once with the power of the iDL100 Dual Alarm Clock Radio. Wake, play and charge your iPad mini, iPad, iPad 2/3, iPhone 5 and iPod.
HMDX® Docking Speaker and Portable Audio System in Pink
Price:
$49.99
Brand:
HMDX
This portable audio system charges and plays your iPhone® and iPod® and also features a digital FM radio with station presets. It includes integrated remote control storage, video-out capabilities and aux-in for non-docking music devices.
HMDX® Docking Speaker and Portable Audio System in Black

Price:

$49.99

Brand:

HMDX

This portable audio system charges and plays your iPhone® and iPod® and also features a digital FM radio with station presets. It includes integrated remote control storage, video-out capabilities and aux-in for non-docking music devices.

]