iHome® Bluetooth® Wireless Mini Speaker in Blue
Price:
$39.99
Brand:
iHome
Colors:
blue, pink
Categories:
A wireless, single speaker that lets you bring the party wherever you go. This mini speaker streams digital audio via Bluetooth technology from various sources, including iPhone, iPad, Android and Blackberry as well as other Bluetooth-enabled devices.
iHome® iHM59 Rechargeable Color Changing Mini Speaker
Price:
$19.99
Brand:
iHome
Categories:
This rechargeable color changing mini speaker works with any 3.5 mm headphone jack. It can play audio from your iPod®, iPhone®, iPad®, computer, hand held games and other audio devices equipped with a 3.5mm audio jack.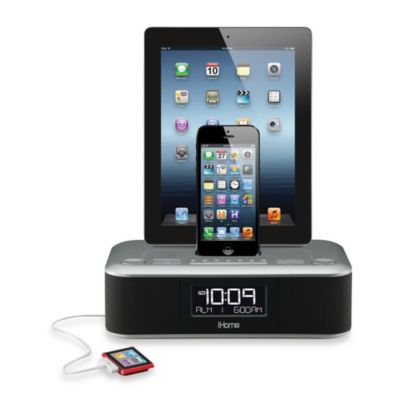 iHome® iDL100 Triple Charging FM Clock Radio
Price:
$139.99
Brand:
iHome
Categories:
Listen to your music while charging up to 3 devices at once with the power of the iDL100 Dual Alarm Clock Radio. Wake, play and charge your iPad mini, iPad, iPad 2/3, iPhone 5 and iPod.