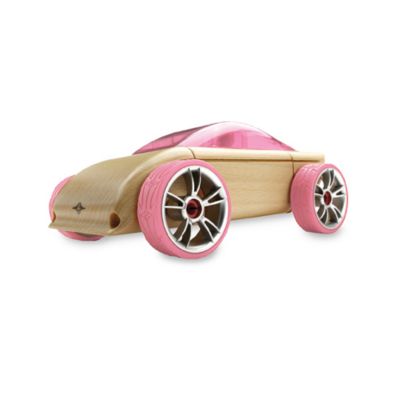 Automoblox® C9 Red Sportscar
Price:
$37.99
Colors:
pink
Categories:
Home > Holiday > Gifts by Price > Under $50
Have you always wanted to build your own uniquely designed car and watch it go? Automoblox® cars are designed with creative and imaginative children in mind. On the outside, these wooden cars are fun, sporty and can go as fast as little hands can push them. The inside features block connectors with coordinating colors and shapes that fit together for a completely new way to learn. Automoblox® Sportscars can be taken apart to interchange parts with other full-sized Automoblox® models, enhancing a child's visio-spatial skills, fine and gross motor skills and creative problem-solving in the process. Plus, these cars and their parts are made of German Beech wood and polycarbonate plastic that is both durable and safe to last for generations. All Automoblox® Sportscars are sold separately, but you can collect them to create endless designs.
Discovery Kids™ Teach and Talk® Exploration Laptop
Price:
$19.99
Brand:
Discovery Kids
Colors:
blue, pink
Categories:
Home > Baby & Kids > Infant Toys (Ages 0 - 3 Years) > Activity Toys
Take the world with you everywhere you go! This toy laptop by Discovery Kids allows you to play math games, word puzzles, music, and more. Perfectly compact, it is easily portable for car or plane rides, and fits into most backpacks.