Kuhn Rikon Large Silicone Chef's Tongs in Red
Price:
$9.99
Brand:
Kuhn Rikon
Colors:
black, purple, red
Categories:
Kitchen > Kitchen Tools & Gadgets > Cooking Utensils & Holders
Kuhn Rikon Silicone Chef's Tongs are made with a silicone exterior and reinforced with a steel interior for greater control. Tongs have a spring-action that grabs food tight for turning, serving and moving.
Kuhn Rikon 8-Inch Red Kitchen Shears
Price:
$19.99
Brand:
Kuhn Rikon
Categories:
Kitchen > Cutlery > Kitchen Shears
These super-sharp scissors will be your 'go-to' cutting tool for all your household cutting jobs. Allows you to snip paper, chicken bones, wire carpet, plastic, or even small branches without the blade losing its sharpness.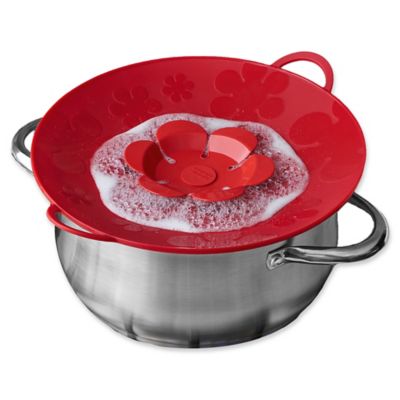 Kuhn Rikon Spill Stopper Large Koch Blume in Red
Price:
$29.99
Brand:
Kuhn Rikon
Categories:
Kitchen > Oven, Stove & Microwave
Spill Stopper helps prevent pots from boiling over and making a mess. Works as both a lid and a splatter guard.

]