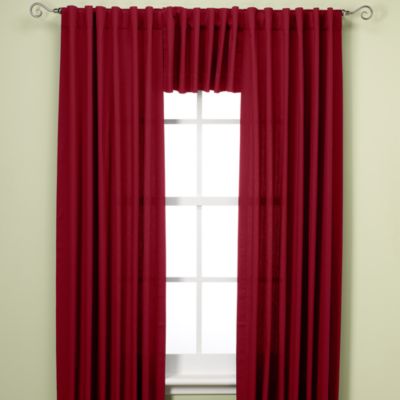 Henley 63" Room Darkening Thermal Lined Rod Pocket/Back Tab Window Curtain Panel
Price:
$49.99
Colors:
red
Sizes:
108" PANEL
Categories:
Window Treatments > Energy Saving/Room Darkening
Window Treatments > Extended Lengths
Window Treatments > Panels > Contemporary
Window Treatments > Panels > See All Window Panels
These casual window treatments convey the easy, relaxed look of a contemporary home, featuring a solid twill fabric in a wide array of colors. Made with a thermal lining, the panels and valance offer room darkening features and help keep your room warmer in winter and cooler in summer. Hang using either the rod pocket or back tabs for a customized look. 100% cotton face. 90% acrylic/10% viscose back foamed material. Panels are sold individually and measure 3 different sizes: 63", 95", and 108". Valance is sold separately and measures 14" L x 50" W. Fits up to a 2" in diameter rod. Machine wash. Imported.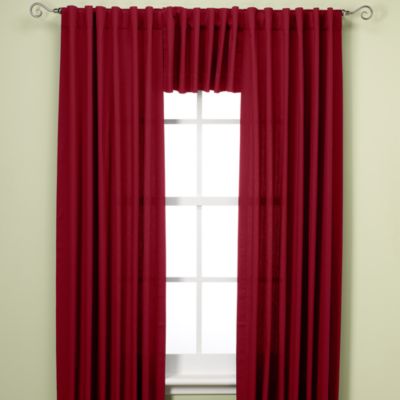 Henley 84" Room Darkening Thermal Lined Rod Pocket/Back Tab Window Curtain Panel
Price:
$49.99
Colors:
red
Sizes:
108" PANEL
Categories:
Window Treatments > Extended Lengths
Window Treatments > Panels > Casual
Window Treatments > Panels > Contemporary
Window Treatments > Panels > See All Window Panels
These casual window treatments convey the easy, relaxed look of a contemporary home, featuring a solid twill fabric in a wide array of colors. Made with a thermal lining, the panels and valance offer room darkening features and help keep your room warmer in winter and cooler in summer. Hang using either the rod pocket or back tabs for a customized look. 100% cotton face. 90% acrylic/10% viscose back foamed material. Panels are sold individually and measure 50" W each. Valance is sold separately and measures 14" L x 50" W. Fits up to a 2" in diameter rod. Machine wash. Imported.

]