Also Showing Categories: Toffee Kitchen Rugs & Mats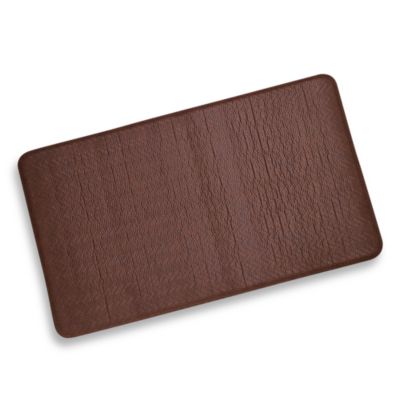 Imprint™ Cobblestone 20" x 72" Anti-Fatigue Comfort Mat - Toffee
Price:
$59.99 - 129.99
Brand:
Imprint
Sizes:
20" X 36"
,
26" X 48"
,
26" x 72"
Categories:
Home > Kitchen > Kitchen Linens > Kitchen Rugs & Mats
Imprint™ anti-fatigue comfort mats are manufactured using proprietary eco9 technology that is environmentally-friendly by being, non-toxic and made without the use of toxic, heavy metals. The process incorporates a multi-layer cushioning system consisting of a soft upper layer, air cell foam technology and a cushioned firm lower layer that significantly improves comfort and overall tiredness when compared to standing on the floor. Less fatigue can be felt in the lower legs, upper and lower back, thighs and buttocks, while blood circulation and posture are improved. The mat conforms to the shape of your feet and supports your arches, resulting in soothing relief. The mat is waterproof, abrasion and stain resistant, and has a non-slip bottom for security. Great for the kitchen, laundry room, garage, bathroom and utility rooms. 100% synthetic material. Wipe clean with soap and water. 7-year warranty.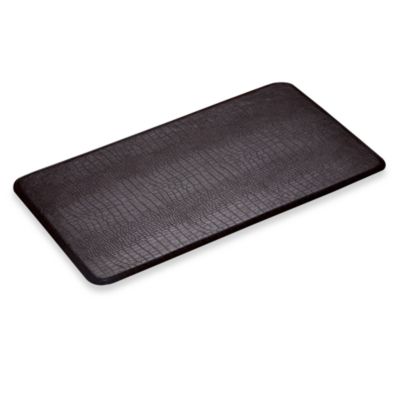 Imprint™ Cumulus9™ Croco Anti-Fatique Comfort Mat in Toffee
Price:
$149.99
Brand:
Imprint
Sizes:
20" X 36"
,
26" X 48"
,
26" x 72"
Categories:
Kitchen > Kitchen Linens > Kitchen Rugs & Mats
Sink your feet into the Cumulus9™ Anti-Fatique Comfort Mat with Multi-Core Technology. You'll feel how it conforms to the shape of your feet and supports your arches to help relieve back, leg and foot discomfort.

]