Turkey Brining Bag™ Created by Grill Friends™
Price:
$4.99
Categories:
Holiday & Gifts > Thanksgiving > Turkey 101
A complete how-to guide and this cleverly designed brining bag help you achieve a picture-perfect turkey that's also very tender and juicy.
Fire & Flavor™ Turkey Perfect Herb Blend Brining Kit
Price:
$9.99
Categories:
Kitchen > Kitchen Tools & Gadgets > Salt & Pepper
Brining kit is the perfect solution for adding big flavor to your turkey. Includes one brining bag.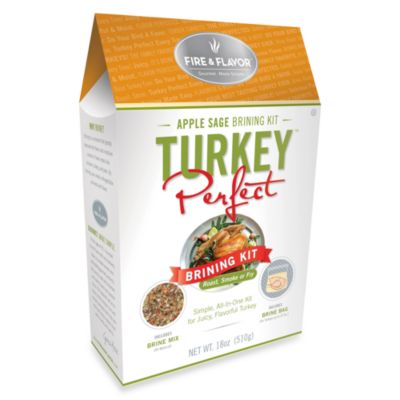 Fire & Flavor™ Turkey Perfect Apple Sage Brining Kit
This apple sage brining kit is the perfect solution for adding big flavor to your turkey. Kit includes one brine mix containing dried apples, cranberries, sage, and other holiday herbs, and a large brine bag for a 25-lb. turkey. Helps create juicy tender