Also Showing Categories: Waterford Riverside Placemat Solid Placemats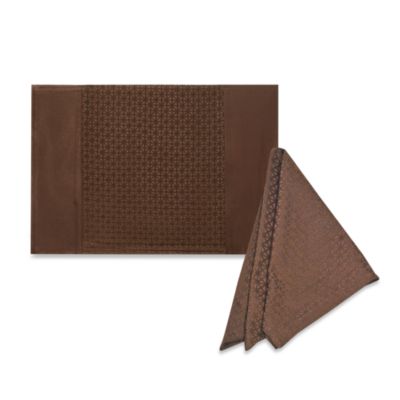 Marquis by Waterford Riverside Placemat
Price:
$3.99
Categories:
Casual Dining > Clearance
Clearance > Dining
Clearance > See All Clearance
Table Linens > Placemats > See All Placemats
Table Linens > Placemats > Solid Placemats
This beautiful placemat features a retro-geometric pattern nicely finished with a single-needle stitch. The white and chocolate color palette keeps it fresh and modern. Measures 13" x 19". Coordinating napkin measures 20" x 20" and is sold separately. Also coordinates with the Riverside tablecloth (sold separately). 100% polyester. Machine wash. Imported.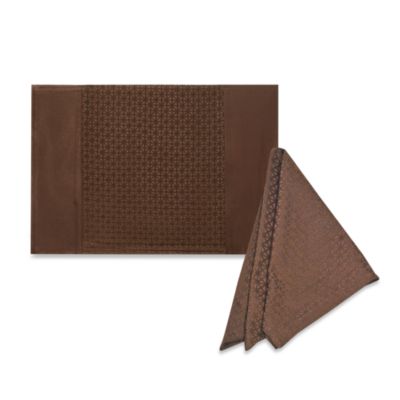 Marquis by Waterford Riverside Napkin
Price:
$3.59
Brand:
Marquis by Waterford
Colors:
chocolate
Categories:
Casual Dining > Clearance
Clearance > Dining
Clearance > See All Clearance
Table Linens > Placemats > See All Placemats
Table Linens > Placemats > Solid Placemats
Table Linens > Tablecloths > See All Tablecloths
Table Linens > Tablecloths > Solid Tablecloths
This beautiful napkin features a retro-geometric pattern nicely finished with a single-needle stitch. The white and chocolate color palette keeps it fresh and modern. Coordinates with the Riverside tablecloth and placemat (both sold separately). Napkin measures 20" x 20". 100% polyester. Machine wash. Imported.

]