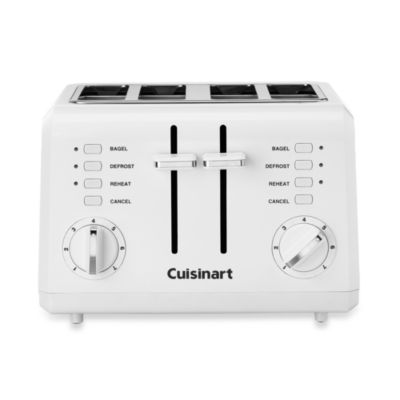 Cuisinart® White Compact Cool-Touch 4-Slice Toaster
Price:
$49.99
Brand:
Cuisinart
Categories:
Kitchen > Small Appliances > Toasters & Ovens
This compact, cool-to-the-touch white plastic toaster with stainless steel accents features two control panels with seven-setting shade dials plus reheat, defrost, bagel and cancel functions.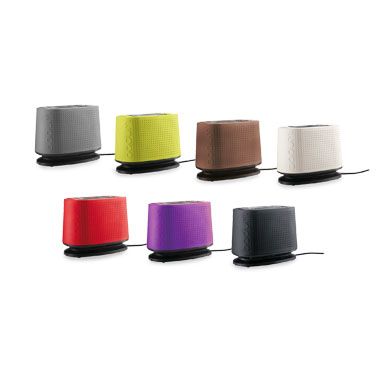 Bodum® Bistro 2-Slice Toaster - Gray
Price:
$49.99 Each
RRP:
$59.99
Brand:
Bodum
Colors:
green, white
Categories:
Home > Kitchen > Small Appliances > Toasters & Ovens
The Bistro Toaster combines a retro modern design sensibility with a splash of bold color. The two-slice toaster is designed to toast breads and baked goods to perfection. Features include 900 watts of power, a stylish perforated housing, variable browning and temperature settings, defrost and cancel buttons, a built-in, pop-up warming rack for keeping bread, bagels, muffins and croissants warm, adjustable-width toasting slots, a removable crumb-tray for easy cleaning and a footed base with cord retainer to adjust cord length and store neatly. Made of stainless steel with a unique, rubberized, colored finish. Measures 10 1/3" H x 12 1/2" W x 7 4/5" D. UL listed. One-year warranty.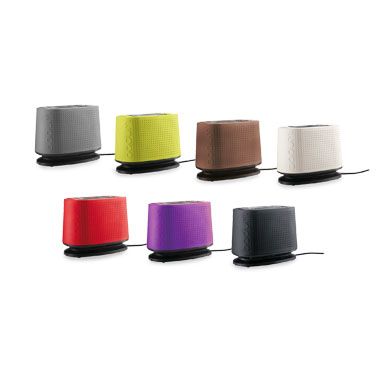 Bodum® Bistro 2-Slice Toaster - Orange
Price:
$49.99 Each
Colors:
green, white
Categories:
Home > Kitchen > Small Appliances > Toasters & Ovens
The Bistro Toaster combines a retro modern design sensibility with a splash of bold color. The two-slice toaster is designed to toast breads and baked goods to perfection. Features include 900 watts of power, a stylish perforated housing, variable browning and temperature settings, defrost and cancel buttons, a built-in, pop-up warming rack for keeping bread, bagels, muffins and croissants warm, adjustable-width toasting slots, a removable crumb-tray for easy cleaning and a footed base with cord retainer to adjust cord length and store neatly. Made of stainless steel with a unique, rubberized, colored finish. Measures 10 1/3" H x 12 1/2" W x 7 4/5" D. UL listed. One-year warranty.

]