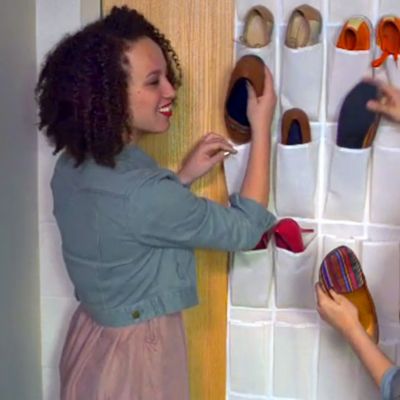 Maximize closet space with slim hangers, a double hang closet rod, and hanging bags for shoes and sweaters.
Still need more? Bring extra drawer space into the room with a canvas cart or stacking bins.
Toss in a bedside caddy and shelves over the bed and you'll find a spot to store all your stuff.
Check out our video to see how two students managed to get everything in their room.
Store your Stuff
Jessica: Hi, I'm Jessica and this is Campus & Beyond from Bed Bath & Beyond.
Nicole: And I'm Nicole. I'm an incoming freshmen and Jess here is helping me set up my dorm room.
Jessica: You know Nicole, there's a ton more space you than you think there is. If you wanted to add a little bit more room under your bed though, you could add these bed lifts and add just a little bit more room under there. But you don't need them because your bed is so high. So you can just put these storage bags under there.
Nicole: Yeah these are great for storing towels or even out of season clothes I'm not wearing.
Jessica: Exactly and you have those wonderful stackable storage bins.
Nicole: Oh yeah you're right. And they slide right under.
Jessica: And they add floor space too.
Nicole: Hey check out all this closet space.
Jessica: Don't get too excited. This is the only one you have.
Nicole: Oh you've got to be kidding me. I mean my closet at home is like three times the size of this thing.
Jessica: Simmer down girl. Let me show you what you can actually deal with your closet space.
Nicole: Hey, that's actually not that bad.
Jessica: Yeah. I mean look at these slim hangers. They're less bulky and you can fit so many more close on the rod. And look what you can do with all that space over the closet.
Nicole: Oh check out those totes. Hey and I can even put my purse on here or a scarf or even hats.
Jessica: Yeah
Nicole: But wait. What do I do with all my shoes?
Jessica: I've got it figured out. You can put it in an over the door shoe rack like this.
Nicole: Hey that's a great idea. And it looks like it holds up to about 12 pairs of shoes.
Jessica: Exactly. So are you feeling better about getting all your stuff moved in?
Nicole: Definitely. Thanks so much for your help Jess.
Jessica: Of course.