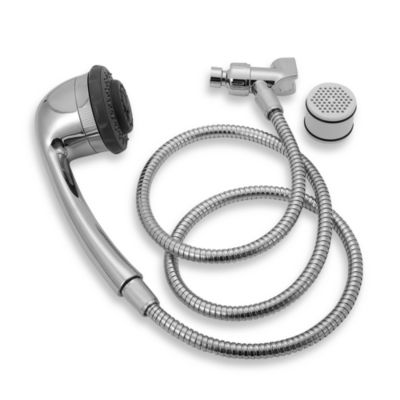 Explore it:
National Sanitation Foundation certified, it filters out 99.9% of chlorine for up to 10,000 gallons of water preventing chlorine damage to your hair and the inhaling and absorption of it into your skin.
It also reduces scale and sulfur odor making shower clean up easier.
The 5-position massaging head soothes tired and achy muscles and may help with dry, itchy skin.
The 5-foot metal hose gives you added flexibility and the hand-held design is great for washing young children and even pets.
Replacement cartridges sold separately.
SKU # 13632596
Also check out:
$12.99

Free Standard Shipping

$69.99 - $99.99
(9 Reviews)

$59.99 - $99.99
(1 Review)

$4.99 - $12.99




$2.99 - $12.99

$9.99

Free Standard Shipping

$19.99

Exclusively Ours

(11 Reviews)
$12.99

Free Standard Shipping

(45 Reviews)

$14.99 Each

$7.99 Each

Clearance!

$12.99

Free Standard Shipping

(22 Reviews)

$49.99

Free Standard Shipping

(5 Reviews)

$10.99

Free Standard Shipping

(9 Reviews)

$14.99 Each

Free Standard Shipping

(34 Reviews)

$5.99

Free Standard Shipping

(1 Review)