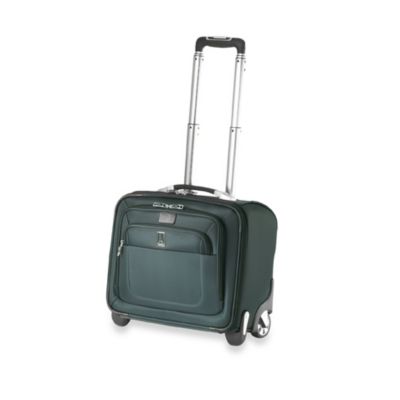 Explore it:
The Polyurethane Honeycomb Framing system and EVA foam construction provide exceptional durability.
Ergonomic high-tensile-strength zipper pulls ensure effortless and secure opening and closing.
Rubber skid guards, side bars and molded corner guards protect from damage during travel.
The rolling business tote has a padded laptop sleeve compartment that holds most 17" laptops and allows you to pass through security without removing your laptop.
It also has a quick loop that attaches to luggage, zippered water bottle pocket, ticket pocket, and removable, sealed, waterproof ball-bearing inline skate wheels for long-lasting durability.
Measures 13" H x 16" W x 8" D.
SKU # 17590758
Also check out:
$119.99

Special Purchases while supplies last

$24.99

Free Standard Shipping

$24.99

Free Standard Shipping

$109.99

$76.99

Clearance!

$59.99

Special Purchases while supplies last

$24.99

Free Standard Shipping

$29.99

Free Standard Shipping

$29.99

Free Standard Shipping

$24.99

Free Standard Shipping

$29.99

Free Standard Shipping

$24.99

Free Standard Shipping

$24.99

Free Standard Shipping
$29.99

Free Standard Shipping

$24.99

Free Standard Shipping

$24.99

Free Standard Shipping

$29.99

Free Standard Shipping

$29.99

Free Standard Shipping

$119.99

Special Purchases while supplies last

$29.99

Free Standard Shipping

$24.99

Free Standard Shipping

$34.99

Free Standard Shipping