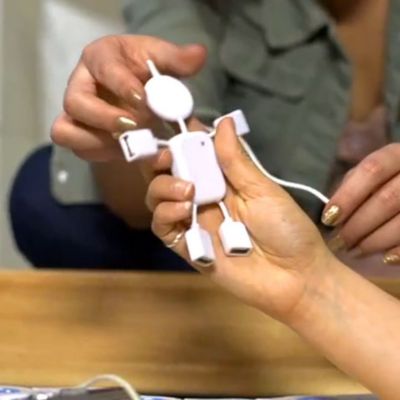 All need power, and odds are, you've only got a couple of plugs.
Make it easy - and safe - with surge protectors that allow for multiple plugs.
Try one that's flexible to work in tight spaces.
Extension cords and power strips help extend your capabilities as well (just make sure they're allowed).
A cord organizer will help straighten out the mess.
When it comes to the laptop, you'll want something to simplify all those USB devices, so look for a multi-port hub so you'll only have one thing to unplug when it's time to rush off to class.
See how to turn four plugs and a whole lot of cords into an organized tech center in the video.
Resolving Technical Difficulties
Jessica: Hi, I'm Jessica with Campus & Beyond from Bed Bath & Beyond.
Nicole: And I'm Nicole. I'm an incoming freshman and Jess has been helping me set up my new room.
Jessica: You look like you've got quite the electronics stash there.
Nicole: I do but seriously I need it all.
Jessica: I totally understand what you mean. How many outlets do you have?
Nicole: Well there's two outlets which means there's only four plugs.
Jessica: Well what you need is a power strip. I like this one because it bends and you can put big plugs on it and it fits pretty much anywhere.
Nicole: That's perfect. And that will protect all my stuff from power surges right?
Jessica: Exactly.
Nicole: Now what to do about this messy desk?
Jessica: I usually put my cords in this little organizer. It keeps everything under control.
Nicole: Oh and this way I'll know where everything is right?
Jessica: Exactly. And this little guy is my secret weapon.
Nicole: What's that?
Jessica: He's a little hub man. You connect him to your laptop and then you put all your USB devices on it, like your camera and your phone. It's just so easy to use.
Nicole: Oh. Is that it?
Jessica: No not really. I have something for you. I usually use this laptop lock to connect to my bed so I never have to worry about my laptop going missing.
Nicole: I would hate it if my laptop was taken.
Jessica: Right.
Nicole: Can use it other places?
Jessica: Yeah. You can bring it to the library with you and that way when you're taking a break you don't have to bring your computer with you.
Nicole: Oh that's perfect.
Jessica: Yeah. I think you done with your gadgets now.
Nicole: Thanks.
Jessica: Not a problem.