"Brooklyn Bagel Slicer" is not available for sale online.
This item may be discontinued or not carried in your nearest store. Please call your local store to check in-store availability before heading there. For informational purposes, the product details and customer reviews are provided.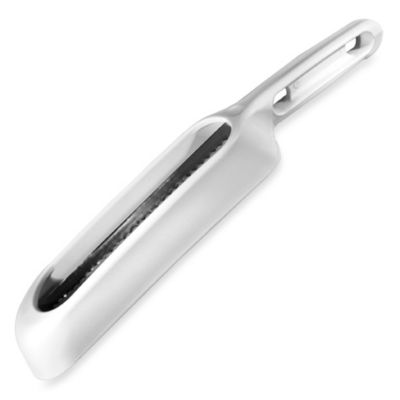 It's great for rolls, English muffins, and more.
Constructed of stainless steel and polypropylene.
Measures 14 1/2" L x 2 1/2" W.
Dishwasher safe.
One-year limited warranty.
Made in the USA.
SKU # 17191250
Brooklyn Bagel Slicer
Are you tired of cutting yourself while slicing a bagel? Don't suffer from bagel-related injuries anymore. The award-winning Brooklyn Bagel Slicer saves the day, and a trip to the emergency room. Brooklyn Bagel Slicer was designed with your safety in mind. With incredible saw-like action, it cuts the bagel perfect every time.
Just hold, slice, and enjoy. This space-age, patent-pending, ergonomically designed knife is dishwasher safe, NSF Certified, and made in the U.S. of A.
Enjoy safe slicing!