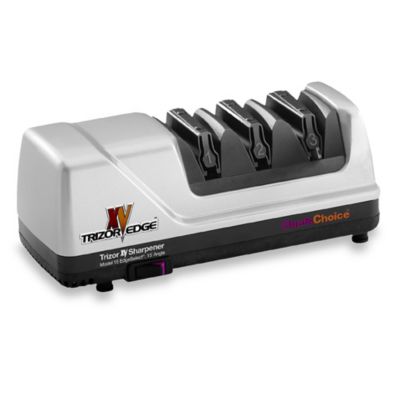 It's also ideal for converting traditional 20 degree factory edges of household knives into high performance Trizor XV edges.
It combines the strength and durability of the Trizor edge with the flawless, ultra-sharp 15 degree XV technology.
The advanced, patented flexible, spring guides provide accurate control of the sharpening angle, while the 3-stage EdgeSelect system is the optimum in versatility for the perfect edge for each cutting task.
Sharpener is for both straight edge and serrated blades.
Three-year limited warranty.
SKU # 17749218
Also check out:
$14.99

Exclusively Ours

(30 Reviews)

$19.99

$12.99

Clearance!

(1 Review)
$9.99 Each

$50 Bonus Gift card with $300 Calphalon Purchase

(6 Reviews)

$4.99 - $8.99
(7 Reviews)

$7.99 Each

$50 Bonus Gift card with $300 Calphalon Purchase

(5 Reviews)