"Cuisinart® PowerEdge™ Blender" is not available for sale online.
This item may be discontinued or not carried in your nearest store. Please call your local store to check in-store availability before heading there. For informational purposes, the product details and customer reviews are provided.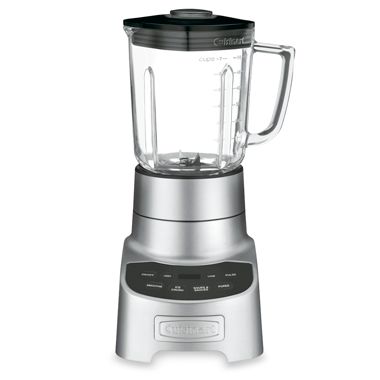 The timing will always be perfect with a built-in Count-Up™ Timer, and a pre-programmed Smoothie function with this Cuisinart® PowerEdge™ Blender
700 watts
Blender jar and lid are dishwasher safe for easy cleanup
Jar capacity: 56 oz.
Measures 6.9" L x 9.06" W x 17.75" H
Weighs 12.2 lb.
3-year limited manufacturer's warranty
Model CBT-700
SKU # 16638960
Cuisinart PowerEdge 700 Blender
Hi, I'm Mary Rogers, Director of Marketing Communications for Cuisinart. This is Cuisinart's PowerEdge Blender. It has 700-watts of power. It has lots of great features. It has a 56-ounce glass blender jar. The lid comes off really easy just by pulling up. It also has a removable insert here that you can use to add liquid or add ingredients during your blending. It has a diecast housing. It's beautifully designed. Also, the blender jar goes on in multiple directions. So it doesn't matter if you're right or left-handed. It's really easy to use. It has an on/off, along with a standby function. So you can have it on and ready to blend when you're ready. The other thing is it has both high and low functions.
It also has a count up timer, so you'll know how long you've been blending. So if a recipe says blend for two minutes, it'll tell you when it's done. The other thing that's really great is that has a pulse function, a puree function. You have a special button just for soups and sauces, ice crush, and a preprogrammed smoothie function. Let me show you how to make a smoothie. It's really quick and easy. Put in your frozen fruit. We use frozen fruit because it's a lot easier than having to worry about adding ice cubes. We're gonna add a banana,but if your fruit isn't frozen and you are using fresh, don't worry about it. Just add about ten ice cubes. Yogurt. This happens to be vanilla. You can use any kind that you like, and a generous helping of orange juice. Then all we're going to do is put the lid on. Since our blender is in standby, it's already on and read, we just hit the smoothie function, and there you go.
It tells you that it's all ready. It beeps when it's done. It also has a six-edge blade assembly that is really great for making a really great vortex and blending really efficiently. Look how gorgeous that looks. You can do a lot of great things with your PowerEdge Blender. You can puree soups. You can make a vinaigrette. You can actually make a beautiful smoothie, or even margaritas. It's a really useful tool for your kitchen.