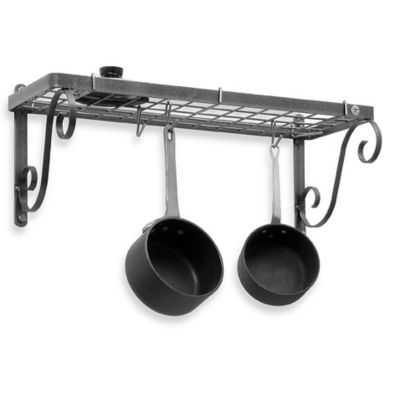 Hang this shelf with the scrolls facing down, and it becomes a great place for lid storage.
Hammered steel is attractive yet durable.
Rack arrives assembled and is easy to install.
Includes hanging grid with 6 grid brackets, 12 DRPHS pot hooks and 4 lag screws for wall attachement.
Mounts on 24" centers and measures 26" L x 10 1/4" W x 10" H.
Model # DR3.
SKU # 14162755
Also check out:
$14.99

Beyond Value

(51 Reviews)

$39.99 - $49.99

Exclusively Ours

(20 Reviews)
$26.99

$50 Bonus Gift Card with $300 Lenox Purchase

$27.99

$50 Bonus Gift Card with $300 Lenox Purchase

$21.99

$50 Bonus Gift Card with $300 Lenox Purchase

(1 Review)

$64.99

$50 Bonus Gift Card with $300 Lenox Purchase

$89.99

$50 Bonus Gift Card with $300 Lenox Purchase

$139.99

$50 Bonus Gift Card with $300 Lenox Purchase

$239.99

$50 Bonus Gift Card with $300 Lenox Purchase

$179.99

$50 Bonus Gift Card with $300 Lenox Purchase

$55.99

$50 Bonus Gift Card with $300 Lenox Purchase

$7.99

$50 Bonus Gift card with $300 Calphalon Purchase

(6 Reviews)

$39.99

$50 Bonus Gift Card with $300 Lenox Purchase

Exclusively Ours

(1 Review)