"Iron Gym™" is not available for sale online.
This item may be discontinued or not carried in your nearest store. Please call your local store to check in-store availability before heading there. For informational purposes, the product details and customer reviews are provided.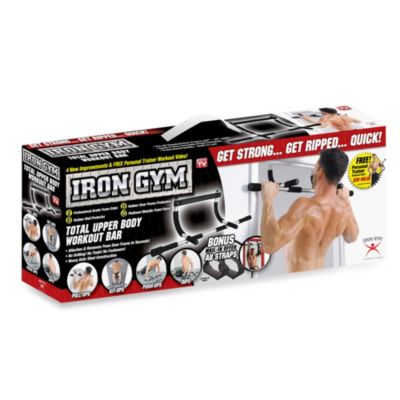 As Seen On TV
For pull ups and chin ups, the Iron Gym™ attaches and removes easily to your door frame in seconds, with no drilling, no tools and no fasteners!
Supports up to 300 pounds.
Instruction book included.
Measures 20 3/4" long.
SKU # 16159433
Iron Gym - As Seen on TV

Want to get strong? Want to get lean? Want to get ripped? Well now you can with Iron Gym, the multi-function training system that raises the bar on upper body exercise.

Iron Gym turns any door into your own personal gym in just seconds. Its unique design wraps around your door frame and uses leverage so there's no screws and no damage to your door. Start off with shoulder shredding, bicep burning chin-ups and pull-ups to develop and strengthen your shoulders, arms, back and lats. And with three different grip positions- narrow grip, wide grip and neutral- you can switch up your routine and keep challenging your muscles.

But we're not finished there. Take it to the floor for deep push-ups for a greater range of motion and no strain on you wrists. And it's a sturdy base for tricep dips. Then finish your workout at the base of your door with gut-busting crunches. For rock hard abs and obliques Iron Gym is THE way to get in serious shape fast. In just minutes a day, you'll build lean muscle and get ripped. With Iron Gym you can do pull-ups, chin-ups, push-ups, dips and crunches- every exercise you need to build a powerful upper body.