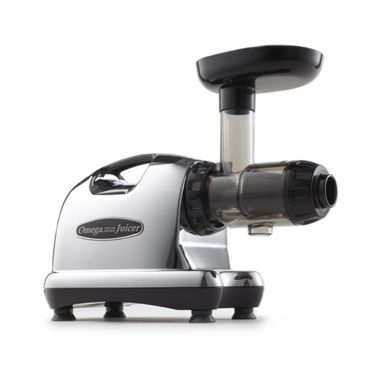 Heavy-duty, single gear masticating juicer.
Equipped with the new GE-Ultem auger, a stone-mill-like screw that is 8 times stronger than other single auger juicers.
Also referred to as a low speed juicer, the J8006 processes food at 80 RPM, whereas most other juicers process at a speed of 1,650 to 15,000 RPM.
Low speed processing protects and maintains healthy enzymes, prevents oxidation and allows juice to be stored up to 72 hours without degradation.
Includes 6 nozzles (caps) to extrude pasta shapes and an efficient juicing screen for soft and firm produce.
Measures 15" W x 11.25" H x 7.25" L.
Chute opening measures 1.5" x 1.5".
120V/60Hz.
UL and CUL approved.
Fifteen-year manufacturer's warranty.
Model# J8006.
SKU # 17222724
Omega® Model J8006 Heavy Duty Nutrition Center JuicerNo Spoken Words
Also check out:
$49.99

Exclusively Ours

(5 Reviews)
$169.99 - $219.99

Exclusively Ours

(5 Reviews)

$10.99

Free Standard Shipping

(118 Reviews)

$12.99

Free Standard Shipping

(231 Reviews)

$99.99

Exclusively Ours

(4 Reviews)