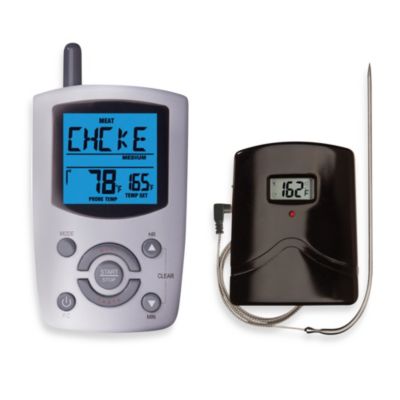 It monitors the internal temperature of cooking meats from up to 100 feet away, has programs for six varieties of meat and a 24 hour count up or down timer.
The transmitter has a built-in stand, so you can easily set it on the countertop.
Wireless remote monitor has LCD and beeps and flashes when meat is ready.
Probe wire is heat-resistant and fits through oven door without affecting insulation.
Can be used with an oven or a grill.
Receiver has a belt clip.
Uses four AAA batteries (included).
SKU # 12123876
Programmable Remote Digital Meat Cooking Thermometer
This is the Professional Remote Cooking Thermometer…from Bed Bath & Beyond.
The thermometer can be programmed for six different kinds of meat…making it the perfect addition for any kitchen.
Once programmed to a temperature of your choice…you can check on the internal temperature of your dish up to 100 feet away using the remote transmitter.
Eliminate doneness guesswork…this automatic thermometer lets you know when your dish is ready by beeping and flashing.The thermometer also features a convenient timer..great for monitoring the side dishes that will accompany your meal.
The Professional Remote Cooking Thermometer…available online or at a Bed Bath & Beyond near you.
.
Also check out:
$3.99 Each

Beyond Value

(6 Reviews)

$19.99 Each

Beyond Value

Exclusively Ours

(26 Reviews)

$14.99

$9.99

Clearance!

(1 Review)

$14.99

Beyond Value

(36 Reviews)

$7.99 Each

Exclusively Ours

(3 Reviews)