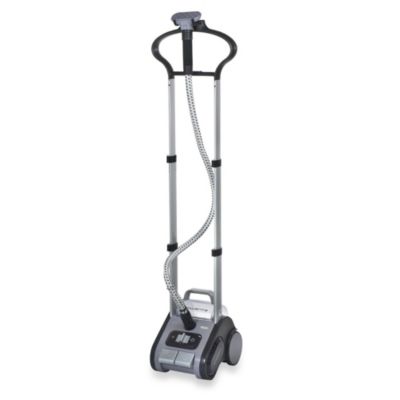 Explore it:
It has the suitcase-inspired "tilt and roll" feature for easy transporting, and foot operated pedals for power and cord retraction.
It offers variable steam control to let you control the amount of steam, and a telescopic pole that adjusts for comfort and pushes down for compact storage.
The high steam output and wide diffusion from the large steam head provide quick and efficient wrinkle removal.
Soft-touch handle stays cool while in use.
Auto-off switches tank off automatically if tank runs dry.
Heats up in just 60 seconds.
Built-in hanger to make steaming garments easier.
Slight assembly required.
Transparent water tank holds one gallon of water for up to 2 1/2 hours of continuous steam.
On-board tool storage includes fabric, upholstery, lint brush and crease attachment.
1550 watts.
UL listed.
Model # IS-9100.
SKU # 16429007
Rowenta IS9100 Commercial Garment Steamer
Introducing the Rowenta Precision Valet full size garment steamer. Now, getting professional results in the care of your clothes and accessories has never been so easy. It's the perfect accessory for your home. With its 1,550 watts of power, the Precision Valet is ideal for steaming garments and furnishings to keep you and your home looking its best. It has a large steam head with superior output and wide diffusion range, perfect for quick wrinkle removal or to easily freshen clothing and upholsteries. With a fast heat up time, you are ready to steam in just 60 seconds. The variable steam control allows you to adjust the steam level based on the type of fabric. The suitcase inspired tilt and roll feature allows you to easily transport the unit or conveniently store it away, and the telescopic pole easily raises up or down for your comfort. The large water tank holds enough water for two and a half hours of continuous steam. For added convenience, there is an onboard tool storage for the fabric, upholstery, lint brush and crease attachment.
Why do I need a Rowenta professional garment steamer? Rowenta uses the power of steam to gently and quickly freshen clothes, easily remove wrinkles from cotton shirts, women's blouses, silk dresses and wool suits. The Precision Valet can plump and straighten delicate items, like sequins, ruffles and crushable fabrics. You'll also save money with less trips to the dry cleaners with the same professional results. For the power, performance and quality of professional garment steamer, pick up a Rowenta Precision Valet commercial steamer today.
Rowenta Commercial Garment Steamer
I want my clothes to look fantastic, but I don't always have time to iron or go to the dry cleaner. That's why I fell in love with the Rowenta Precision Valet Garment Steamer. With its superior steam output, it removes wrinkles quickly and easily. It's perfect for quick touch-ups or for refreshing clothes. With a fast heat-up time, it's ready to steam in just 60 seconds. The insulated fabric hose stays cool while in use and the large water tank holds enough water for two and a half hours of continuous steam. The unique variable steam control allows me to adjust the amount of steam for all types of fabrics from delicate materials like synthetics and silks to more durable ones like denim or cotton. The Precision Valet is also ideal for delicate items that I don't want to iron, like sequins, ruffles, suits, and crushable fabrics, helping me to extend time between my trips to the dry cleaners. All the accessories are stored on board. Four accessories are included: fabric brush, upholstery brush, lint brush, and crease attachment. The built-in Vvalet is perfect for hanging jackets, dresses, and shirts, and the pole adjust to the perfect tight. When I'm finished steaming, I can easily turn it off and retract the cord with just the touch of my foot. Designed like a travel suitcase, it's easy to move; you just tilt and roll. It collapses to a compact size perfect for storage. The Rowenta Precision Valet brings me professional results at home, saving me time and money.
Also check out:
$7.99

Exclusively Ours

(14 Reviews)