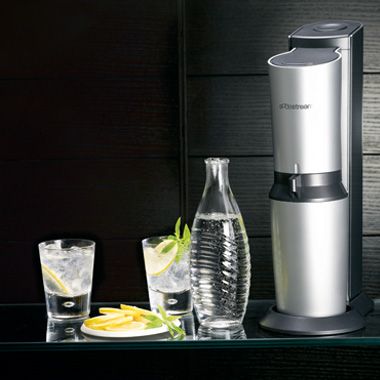 You'll save on lugging, storing and disposing of bottles and cans of store-bought soda.
You can fizz and flavor to your taste, without high-fructose corn syrup or aspartame (sweetened with Splenda®).
Enjoy sparkling water freshly crafted in elegant cut-glass carafes, or create your own regular and diet soda and energy drinks.
Measuring 6" W x 10" D x 17.79" H, it has a contemporary design and smooth ergonomics to welcome you to the future of soda.
Features an automatic access gas release mechanism, customized carbonation level and an easy to clean stainless steel housing.
No need for batteries, electricity or plumbing.
Starter kit includes home soda maker, one reusable 14.5 oz./60L CO2 carbonator, and one glass carafe with a fizz-preserving stopper.
Two-year warranty.
Note: This product is compatible only with the 14.5 oz./60L carbonator and requires a customer signature upon delivery.
SKU # 17820893