"SodaStream Genesis Soda Maker in Black" Is Not Available for Sale Online.
We have provided the content below as informational. Please view additional items Customers also viewed.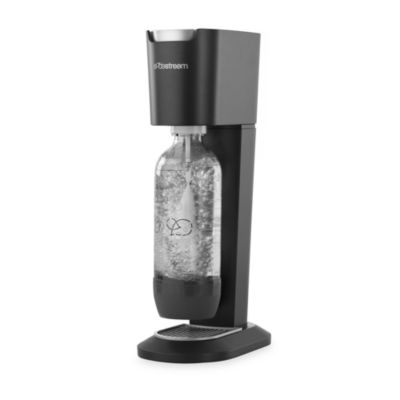 Customers Also Viewed
Frequently Bought With
SodaStream Genesis Soda Maker offers a quick and easy way to turn water into a bubbly and refreshing carbonated soda drink
Enables you to make your own regular, diet soda and energy drinks, or create your own seltzer or flavored sparkling water
Eliminates the need to lug, store and dispose of store-bought soda bottles and cans
High fructose corn syrup or aspartame free
Sweetened with Splenda®
Slim design fits easily on any counter and is perfect for even the smallest kitchens
Automatic access gas release mechanism
Customized carbonation level allows you to customize fizz and flavor according to your taste
Easy to clean drip tray
Needs no batteries, electricity or plumbing
Starter kit includes home soda maker, one reusable 60-liter CO2 carbonator, one reusable and BPA free carbonating bottle, plus a flavor sampler pack
Dimensions: 5" W x 8" D x 17" H
2-year manufacturer's warranty
Imported
Note: This product requires a customer signature upon delivery.
SKU # 17345443