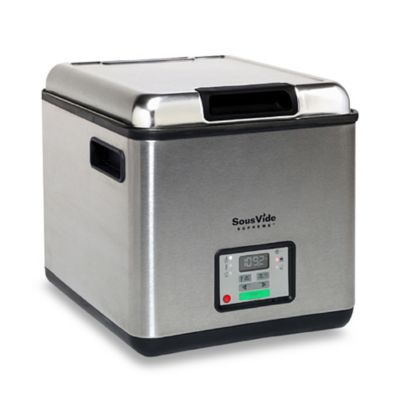 Just season your dish, vacuum-seal it in food-grade pouches, simmer in the water oven, sear or sauce your dish if desired and serve.
The SousVide™ Supreme method of cooking helps pack in all those lost nutrients that conventional methods tend to remove during their processes, thereby offering you a way to serve food with all its true flavor intact.
Easy to use, the SousVide™ has a one-touch precision LED control panel for setting temperatures and times.
Includes detachable power cord, a perforated bottom grill designed to generate thermal turbulence, and a stainless steel rack to separate food bags.
110-120 volts.
Holds 11.2 liters.
ETL listed.
Measures 11 1/4" W x 14" D x 11 1/4" H.
Model #SBB-100S.
Vacuum sealer and bags sold separately.
SKU # 17748459
SousVide Supreme™ Demi Temperature Controlled Water OvenWith its sleek compact design, a patented PID controller, easy to use digital LED display and a professional nine-liter capacity, the SousVide Supreme Demi is where precision finally meets perfection.

Simply vacuum seal (SousVide Supreme Vacuum Sealer shown in video) your favorite foods to lock in and infuse flavors and nutrition. Select the precise temperature you want to cook your food at. The SousVide Supreme Demi is accurate to within one degree Fahrenheit.

Once your food is cooked, it can remain perfectly held in the SousVide Supreme Demi, it can remain perfectly held in the SousVide Supreme Demi for hours giving you the power to decide when you're ready to eat guaranteeing you consistent, perfect results every time you cook.

Breakfast, lunch and dinner are now ready at the simple touch of a button. Foods cooked in the SousVide Supreme Demi develop flavors and textures that simply cannot be duplicates using any other cooking method.

It's so easy to use and almost impossible to overcook food. Just sit back, relax and let the SousVide Supreme Demi do the work for you.

The SousVide Supreme Demi, where precision meets perfection.