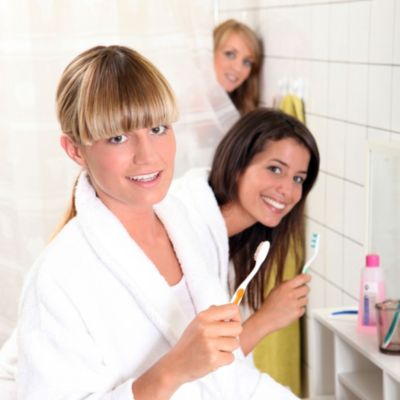 The easiest way to keep all your stuff together is with a shower tote or caddy to hold your soap, shampoo, conditioner, razor, toothbrush, toothpaste.
All the things you need at your fingertips when you're trying to get out the door
You'll also need something to wear for the trip up and down the hall, so remember a robe or towel wrap and slippers
A portable suction hook gives you something to hang it on while you're in the shower
And that's not all; don't forget towels (two sets mean less frequent laundry days), washcloths, a hair towel, flat iron, blow dryer
It takes a lot to look this good! Check out the video to see how to manage the dreaded "shared bathroom situation."
Surviving the Shared Bathroom
Jessica: Hi, I'm Jessica for Campus & Beyond from Bed Bath & Beyond.
Nicole: And I'm Nicole. I'm an incoming freshman and Jess has been helping me set up my dorm room.
Jessica: Hey Nicole, are you ready to face the dreaded shared bathroom situation?
Nicole: I guess I better be right?
Jessica: It's really not that bad as long as you're organized. Like with the shower caddy, there are plenty of compartments in it to keep your shampoos, your conditioners and your brushes too. And there's also some holes in it so the water will drain out and there won't be any soapy residue at the bottom.
Nicole: Hey it's pretty cute. You know that will definitely help me get ready faster in the morning.
Jessica: Exactly, and now to talk about your shower wardrobe from going to and from your bathroom.
Nicole: Oh that's okay. I figured I'd just wear whatever. You know as long as I look decent right?
Jessica: Have you ever tried to put jeans and after a quick towel dry?
Nicole: There's nothing worse than jeans sticking to you.
Jessica: Exactly. So you can wear a robe or you could wear a towel wrap. It will keep you decent so there's no wardrobe malfunction.
Nicole: Hey you know this is really cute.
Jessica: Yeah. And you'll also need bath towels too. At least two so you're not doing laundry all the time.
Nicole: I hate doing laundry.
Jessica: Well I hate walking barefoot on bathroom floors. So I wear flip-flops in the shower and then fuzzy slippers when I get out. And another thing you can add to your shower wardrobe is also a hair wrap. It cuts so much drying time in the morning.
Nicole: Hey looks pretty cute right?
Jessica: Yeah you look really good. It looks great on you.
Nicole: Yeah. I think I'll save this for the mornings. You know I never realized how much stuff I'm going to need to help me get ready in the morning.
Jessica: I know it's shocking right? But what makes it easier is actually this style station. It holds all your styling tools.
Nicole: You know normally I would just keep all this stuff on the sink but I guess with a bunch of roommates I'm probably going to need this right?
Jessica: Yeah. So Nicole do you think you'll be able to face life with a shared bathroom?
Nicole: Definitely. I feel so much more organized. Thanks so much for your help.
Jessica: No problem.