"Thundershirt™ Grey Dog Anxiety Treatment Shirt" is not available for sale online.
This item may be discontinued or not carried in your nearest store. Please call your local store to check in-store availability before heading there. For informational purposes, the product details and customer reviews are provided.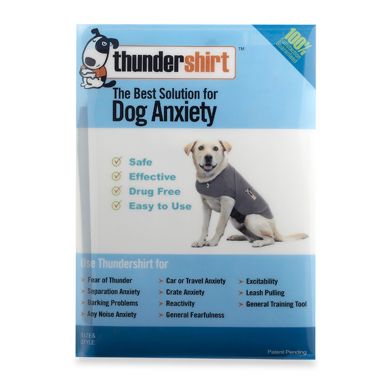 Thundershirt™'s gentle, constant pressure has a dramatic calming effect for most dogs if they are anxious, fearful or over-excited.
Utilizes pressure to relieve anxiety.
Soft, breathable dog wrap is made using 55% cotton/35% polyester/10% spandex blend and is adjustable with hook and loop fastener straps.
Hook and loop fasteners for easy strapping to your dog.
Provides a drug-free dog anxiety treatment for your pet.
Machine wash.
Imported.
Thundershirt Gray Dog Anxiety Treatment Shirt
You know sometimes we dogs get anxious, fearful or overexcited. We get scared of fireworks and thunderstorms or anxious when someone leaves us alone. We shake, pant, drool, destroy furniture, hide in bathtubs.
Fortunately there's an easy, safe and inexpensive alternative that works with more than 80% of us dogs – Thundershirt. You put it on and instantly the shirt applies a constant gentle pressure to the body.
Pressure is believed by experts to release a calming hormone which is comforting to living beings.
Thundershirt - you put it on, we calm down.
That's like a giant wearable hug that never ends.
Thundershirt is completely safe and drug-free. It's easy to use and comfortable to wear. It's available in a range of sizes to fit most every dog.
Thundershirt - the shirt that hugs your dog.