"Waring Pro® Pro Double Belgian Waffle Maker" Is Not Available for Sale Online.
We have provided the content below as informational. Please view additional items Customers also viewed.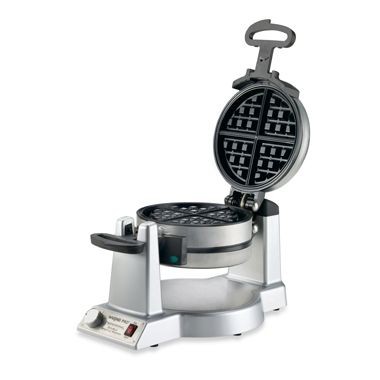 Customers Also Viewed
Frequently Bought With
Waring Pro® Pro Double Belgian Waffle Maker features six settings which allow you to custom select the precise level of browning for the ideal crispness and golden texture every time
The extra deep 1" waffle pockets are easy to fill with the included measuring cup
Fill one side, then flip the iron 180 degrees, and add batter to the second grid plate
The upper and lower grids each feature their own green LED lights that illuminate when the waffle is ready and they have audio signals that beep 3 times to alert you when the waffle is done
No need to lift the lids to check on the waffles
The non-stick-coated plates allow easy release and hassle-free cleanup
Features on/off switch clearly visible on the front panel
1,400 watts of power
Includes:

1 measuring cup
Recipe booklet

Stainless steel construction
Wipe clean
Measuring cup is dishwasher-safe
Measures 9.8" L x 15.25" W x 9.4" H
Weighs 9 lb.
1-year manufacturer's warranty
Imported
Model WMK600
SKU # 17628135
Waring Double Waffle Maker - WMK 600
This is the Waring Pro Double Belgian Waffle Maker. It's so much fun to use, and it's great because you can make two waffles at the same time. So, what we're going to do today is I'm just going put the batter in. It's already been heated up, and when it comes to temperature it beeps six times to let you know it's ready.
So, what I'm going to do is put the batter in, spread it out evenly and then what you're going to do is you're going to close it and rotate it and I'm going to explain to you why that's really important and then we're going to do the same thing on this side. And this is a really great way to make waffles really quickly on the weekend for your friends or your family. What we're going to do is close it again and rotate it, and what that does is it spreads the batter very evenly around the waffle maker. So, what happens is you get a really nice crust created on the outside and then when the waffle bakes you get a really tender fluffy interior. These Belgian waffles are going to come out and they will be about 1" thick and there's lots of beautiful finishes on the machine - stainless steel and also a nice painted finish. It has a shade control knob here which adjusts the temperature from one to six depending on how you like your waffles done. I picked medium today; and as soon as it beeps, it's going to let us know these waffles are done and it's ready to eat them.
So, the machine just beeped so I'm going to check on our waffles. I could have put a little bit more batter in, but they came out really light and fluffy. Like I mentioned, two at a time. Let's check on the other one. There you go. They smell really, really yummy; and they're really pretty. So, there you have it, the Waring Pro Double Belgian Waffle Maker.