Corporate Gift Card Sales
Corporate Gifts and Incentives
Give your employees and customers everything Bed Bath & Beyond has to offer.
Whether you want to reward your employees for a job well done or give your clients something they could really use, Bed Bath & Beyond Gift Cards are the perfect marketing tool for your incentive, loyalty or rewards program. Our gift cards are redeemable for purchases in all stores in the U.S. and Puerto Rico and on-line.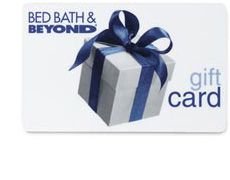 Why choose Bed Bath & Beyond Gift Cards?
- available in any denomination from $5 to $1000
- volume discounts available for corporate bulk purchases
- complimentary 2-day shipping
- no fees or expiration dates
Gift Cards (Always the perfect gift!)
If you are a corporation or individual looking to make a large volume purchase of Bed Bath & Beyond Gift Cards, please contact us at 1-800-GO BEYOND (1-800-462-3966) or e-mail us at giftcard@bedbath.com.