De-stress The Holidays
Avoid headaches with this holiday game plan
Take time to develop a holiday game plan. This could be your best holiday ever!
Sleigh bells jingle and your nerves jangle, right?
Stress doesn't have to be part of your holidays. You can take positive actions now to reduce pressures and increase your enjoyment of this lovely time of year.
Here's a game plan to follow for a more relaxing holiday season:
10 weeks in advance
Start pre-planning. Ask yourself what you enjoyed most about previous holidays (even in childhood) and what was most draining. Think about how much time you might need to accomplish holiday preparations.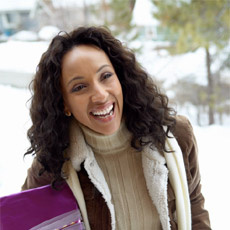 Check the calendar now. Hanukkah begins 13 days before Christmas this year. Kwanzaa begins the day after Christmas. Other religious holidays occur in January. Talk with family members about how, where and when celebrations will take place.
Ditch those great expectations. Hand-painting your own ornaments, cooking a dozen new recipes from scratch, and saying "yes" to every party and volunteer effort will set you up for stress overload. You'll have a simpler, more meaningful, more fun holiday if you control unrealistic expectations.
Determine who will help. Share holiday preparation efforts with others. If there's little or no help possible, cut back on your plans.
8 weeks in advance
Set limits on the cost or amount of gift-buying you do. Talk with family, friends or co-workers to reach agreement on this.
If certain rituals trigger sadness, create new traditions to replace them.
Organize your gift list. Shop now to avoid crowded stores and out-of-stock items. Or order online—shipping costs are usually lower when you have time to wait for delivery.
6 weeks in advance
Wrap and label gifts. Keep a list, but put items in a closet or at a friend's house.
Decorate gradually. Get it done a little at a time.
Bake or cook in advance and freeze food now for holiday parties.
If you enjoy sending holiday cards or letters, write them now. Reduce your mailing list by as much as possible.
4 weeks in advance
To keep stress at bay,finish all your shopping by Thanksgiving.
If family events are too stressful, make alternate plans or arrange to take a brief vacation. Send gifts by mail.
Volunteer to help out at a hospital, food pantry or shelter.
The final sometimes-crazy days
You may start having symptoms of stress (headache, diarrhea, anxiety, etc.) as the holidays draw near. If so:

Listen to your body and slow down.
Eliminate anything left on your to-do list.
Get at least seven to nine hours sleep every night, the National Sleep Foundation advises.
Take daily walks with a friend, a dog or soothing music on your headphones.
If the holidays have thrown you off your gym schedule, take time for a workout. Your emotions and your body will thank you.
Calm down with a few deep abdominal breaths. You'll find this simple technique at www.healthywomen.org/take10/january2005/fitnessminute.html.
© 2014. National Women's Health Resource Center, Inc. All rights reserved. All content provided in this guide is for information purposes only. Any information herein relating to specific medical conditions, preventive care and/or healthy lifestyles does not suggest individual diagnosis or treatment and is not a substitute for medical attention.
Back to Healthy Holiday Guide Home Page