Food and Kitchen Safety at Holiday Time
Food and Kitchen Safety at Holiday Time
With so much food preparation going on and hungry folks gathering, it's easy to make a few mistakes. Here are some helpful hints for avoiding them:
There's an old saying, "The kitchen is the center of the home," and that's especially true during the holidays. Our kitchens produce many of our fondest memories: cookie-baking and decorating sessions, sharing cups of tea with favorite relatives, and the succulent smells of the holiday dinner roasting.
With food preparation and serving whirling, and a crowd of hungry folks gathering, it's easy to make a few mistakes. Keep your holiday safe with this advice:
In the Kitchen
Always supervise cooking and baking. Turn pot handles in, away from burners, and keep extra flame-resistant pot holders nearby.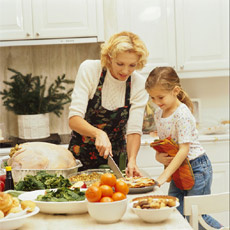 If your kitchen is large enough, make sure children and pets stay several feet away from the stove. In a smaller room, don't let them in while the stove is in use.
You might even ask non-cooking adults to socialize elsewhere. The fewer people in the kitchen, the fewer bumps, spills and possible burns that can occur.
Keep those smoke detector batteries in place, even if they go off when something scalds.
Don't cook in long, loose-sleeved clothing. It can catch fire easily. Change into your party clothes right before serving.
Preparing and Serving Food Safely
Wash hands frequently, before and after preparing or serving foods.
Use separate work areas, plates and cutting boards for raw and cooked foods. This helps avoid bacterial contamination that can make everyone sick.
Cook all food thoroughly to destroy bacteria. A food thermometer is necessary so you'll know if food is cooked to a safe internal temperature. Check meat, poultry and casseroles in several places.
Never lick spoons or bowls containing batter or mixtures made with raw eggs.
When transporting food to another location, keep hot foods hot (above 140°F) and cold foods cold (below 40°F). Reheat foods to 165°F.
Follow the Two-Hour Rule for perishables: don't keep them on the buffet table for longer than two hours. Sit platters of cold foods in trays containing ice.
Keep buffet portions small, so food won't stay on the buffet table for a long time. Don't refill empty platters; use clean platters for each round of serving. You may want to set these up in advance and store them in the refrigerator for use when later guests arrive.
Store cream pies in the refrigerator until you're ready to serve them.
Carefully store your leftovers: Be sure to store food in air-tight containers, or tightly wrap foods that will be placed in the freezer. Write the date on a piece of masking tape and affix it to the container to assure that you eat leftovers within a safe amount of time. Most leftovers will keep in the refrigerator for three to five days, but be sure to check leftovers daily for signs of spoilage. If something looks or smells suspicious, toss it.
Safely reheat leftovers in the microwave: Cover foods with wax paper to lock in moisture and heat evenly. Only use glass or glass-ceramic cookware and other containers that are labeled microwave safe. Do not use metal or aluminum foil containers, restaurant take-out cartons or styrofoam in the microwave.
© 2014. National Women's Health Resource Center, Inc. All rights reserved. All content provided in this guide is for information purposes only. Any information herein relating to specific medical conditions, preventive care and/or healthy lifestyles does not suggest individual diagnosis or treatment and is not a substitute for medical attention.
Back to Healthy Holiday Guide Home Page