Winter Safety
Tips for protecting yourself and your home in the winter. How to winterize your house and car, and ways to dress for winter.
Winter Safety Tips: Plan Ahead
Subzero temperatures and the threat of winter storms can present challenges–both indoors and out–for those in winter climates. So, as winter approaches, learn what you can do to keep your home and family safe. If you live in a warm-weather climate, you probably won't need to know all of the tips that follow, but they will help if you plan to travel to cold-weather places.
Tips for Winterizing Your Home
It's important to protect your home as best you can from Mother Nature's bitter cold winter weather. Winter storms can leave you and your loved ones stranded at home for days, so it's helpful to plan ahead.
Weather-strip doors and windows to keep the heat inside. Double check that the walls and attic are properly insulated.
Remove branches that might fall on power lines if an ice or snow storm blows over. When winter hits, steer clear of any downed or damaged power lines, and contact the electric company to report the incident.
Make sure you keep an emergency supply kit on hand in the event of power outages. This should include the following items:

Flashlight
Portable radio
Extra batteries
First aid kit
Non-perishable food items and can opener
Plenty of bottled water
Extra blanket

Prepare and use safe emergency heating sources. The fireplace, if you have one, is a good option, and make sure you've stocked an ample supply of wood. Be careful when using alternative heating sources, such as wood-burning stoves or kerosene or space heaters due to the increased risk of house fires. Only use these options in properly ventilated rooms. Make sure to keep fire extinguishers on hand, and check your smoke/fire alarms while you're at it.
Keep pipes from freezing by wrapping them in insulation or layers of old newspapers covered with plastic. In the event of a power outage, let faucets drip to avoid freezing; keep the refrigerator closed to preserve as much cold air as possible. You should also know how to shut off water valves if a pipe bursts.
Tips for Winter Driving
Winter weather can make for hazardous driving conditions. Snow, sleet and ice can limit your visibility and can make it difficult to keep your car on the road. So what can you do?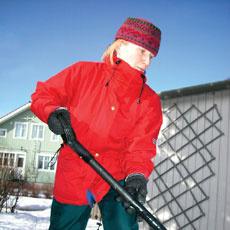 Prepare Your Car:
If your car is overdue for a tune-up, schedule a servicing. You should:
Check your brakes; they should feel even and balanced when braking. Make sure that the brake fluid is at the proper level, too.
Make sure antifreeze levels are topped off to avoid freezing.
Check that your car's battery is fully charged and that ignition connections are clean.
Inspect the engine system, including spark plugs and valves.
Inspect your tires and make sure all are properly inflated. They should have deep, even tread. Depending on size of the vehicle and the laws in the jurisdiction where you live or are traveling to, you may need to look into chains or snow tires.
Check for leaks or bad pipes in the exhaust system.
Check the oil level.
Inspect all exterior lights, including your hazards, the heater, defrosters (windshield and rear window) and wipers.
Top off windshield washer fluid. Sand and salt from the roads can easily cloud windows, making it difficult to see.
Try to maintain at least half a tank of gas to help weigh down the car. You should also carry an emergency kit in your trunk with essential supplies, just in case you get stuck. This kit should include:

Blankets/sleeping bags
Cell phones or a two-way radio
Windshield scraper, a shovel and snow brush
Flashlight with fresh/extra batteries
Extra winter clothes
Tow chain
Matches
A bag of sand or kitty litter to help create traction if your wheels get stuck and to help weigh down the car
Emergency flares
Jumper cables
Snacks (e.g., canned nuts, dried fruits)
Water
Properly inflated spare tire, wheel wrench and tripod-type jack
Basic first aid kit
Road maps and a compass
Adjust your driving:
You'll also need to adjust your driving to winter weather conditions. Here are some safe driving tips:
Always wear seat belts.
Keep extra distance between cars.
If your car starts to slide, turn the steering wheel in the opposite direction.
Try to stick to interstates and main roads.
Turn on your headlights.
Scrape off all of the ice and snow before you go.
Drive with caution over bridges and ramps that tend to freeze first.
Of course, the best advice is to avoid driving in the snow, sleet or ice. If you must venture out, drive during the day and don't travel alone. If you happen to get stranded, experts say you are much safer staying with the vehicle unless help is within 100 yards. You should also:
Tie a brightly colored piece of clothing to the antenna to attract attention.
Move your arms and legs to keep warm.
Turn the car on and use the heat for 10 minutes every hour. Make sure the exhaust pipe is clear.
Keep at least one window open slightly for fresh air and to stop it from freezing shut.
Huddle with others.
Drink fluids to stay hydrated.
Protect Your Family from Winter Cold
Make sure everyone dresses to stay warm during the cold weather months. This means wearing several layers of clothing, a well-insulated, wind-resistant coat, gloves, hats and scarves.
Watch for signs of frostbite and hypothermia (For more information, see the Gearing Up for Winter Sports Safety article within this guide).
Cover your mouth to protect your lungs from the bitter, cold air.
Be careful not to strain your back when shoveling snow.
Watch your step and keep a bag of rock salt on hand to melt ice on walkways.
Develop an emergency communications plan so family members know how to reach one another if separated during a storm. Find out what plans your kids' schools have in place for winter storms or early releases.
© 2014. National Women's Health Resource Center, Inc. All rights reserved. All content provided in this guide is for information purposes only. Any information herein relating to specific medical conditions, preventive care and/or healthy lifestyles does not suggest individual diagnosis or treatment and is not a substitute for medical attention.
Back to Winter Wellness Guide Home Page