Personalization is required to add item to cart or registry.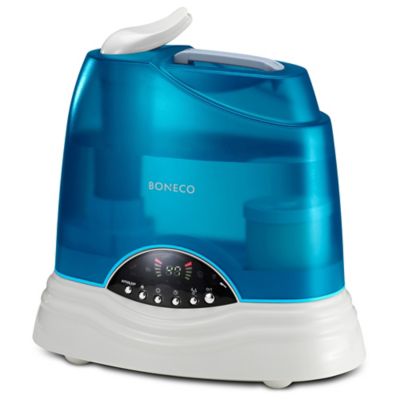 Alternate image 1 for Boneco Air-O-Swiss® Ultrasonic Digital Humidifier
Alternate image 2 for Boneco Air-O-Swiss® Ultrasonic Digital Humidifier
Alternate image 3 for Boneco Air-O-Swiss® Ultrasonic Digital Humidifier
Watch the video for Boneco Air-O-Swiss® Ultrasonic Digital Humidifier
Similar Items
The item you viewed above is out of stock. We also suggest:
Ultrasonic humidifier has a built-in hygrostat and an output regulator button
A hygienic, pure water mist free of limescale or mineral residues is ensured with the replaceable demineralization cartridge
Water is heated to 176° Fahrenheit before it enters the nebulizer chamber when the pre-heating function is used
The mist exits at 104° Fahrenheit and helps to prevent the room temperature from falling and keeps the water cleaner
Includes demineralization cartridge and Hydro Stick
Humidifier with 1.8-gallon transparent water tank is for rooms up to 650 square feet
Three-year manufacturer's warranty
Measures approximately 15" L x 8 3/4" W x 15 1/2" H.
UL listed
Model # AOS7135
SKU # 13876550
View More
Air-O-Swiss Ultrasonic Digital HumidifierAir-O-Swiss Ultrasonic Digital Humidifier

We inhale over 10,000 breaths of air every day. Essential to our quality of life is the quality of the air that we breathe. Good indoor air is properly humidified air. As the temperature goes down outdoors, the relative humidity drops indoors, often to a level that is harmful to your wellbeing. Dry air dries out your body. When your eyes, nose, or throat become dry, you become more vulnerable to illness.

For all these reasons, we are proud to introduce the new, state-of-the-art Air-O-Swiss 7135 Digital Ultrasonic Humidifier. Suitable for rooms up to 600 square feet, the Air-O-Swiss 7135 is capable of delivering up to three and a half gallons of moisture per day.

But how does an ultrasonic humidifier actually work? First, ordinary tap water placed in the reservoir flows through a replaceable demineralization cartridge, which purifies and softens the water. The Air-O-Swiss tri-band microbial protection system defends you and your humidifier from unwanted microbial growth. Silver ions, heat, and ultrasonic vibration create a unique and effective combination in maintaining performance.

The cornerstone of our protection system is Air-O-Swiss's patented ionic silver stick, which protects the reservoir water using the proven antimicrobial qualities of silver. Silver ions are released into the water, which keeps the water and the moisture added to your room clean and safe. Best of all, the ionic silver stick is good for one year and requires no power to function. Finally, a four-step, whisper-quiet fan blows the mist into your room, where it instantly evaporates.

Simple and easy to use, the Air-O-Swiss Advanced Ultrasonic Humidifier utilizes the latest in digital technology. When the Air-O-Swiss 7135 is turned on, it is set to the auto mode. This function, along with the sleep mode function, utilizes Air-O-Swiss's intelligent temperature compensation technology. One unique aspect of the intelligent temperature compensation technology is the ability to measure humidity with relation to room temperature and to automatically take corrective action when conditions change.

The 7135 has a built-in digital hygrostat. This allows you to set the specific humidity level you desire and provides you needed information on the current humidity level in your room. Additional features allow you to choose warm mist or cool. When the water tank empties, the Air-O-Swiss 7135 automatically shuts down. And the Air-O-Swiss 7135's cleaning function reminds you to clean and maintain your humidifier on a regular basis.

Prepare yourself and your family for the dry air season. Protect your health and enhance your comfort. Backed by 50-plus years of innovation, technology, and customer experience. Buy the Ultrasonic Humidifier 7135 from Air-O-Swiss.
Related Searches
Same Day Delivery Exclusions
Same Day Delivery is not available for items that ship directly from the vendor or furniture items delivered by truck.