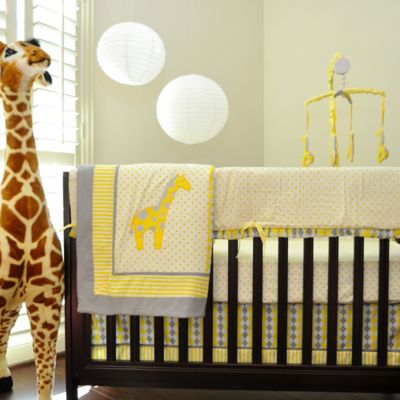 Alternate image 1 for Pam Grace Creations Argyle Giraffe 10-Piece Crib Bedding Set
Alternate image 2 for Pam Grace Creations Argyle Giraffe 10-Piece Crib Bedding Set
Alternate image 3 for Pam Grace Creations Argyle Giraffe 10-Piece Crib Bedding Set
Alternate image 4 for Pam Grace Creations Argyle Giraffe 10-Piece Crib Bedding Set
Alternate image 5 for Pam Grace Creations Argyle Giraffe 10-Piece Crib Bedding Set
Set includes:

36" W x 45" L quilt
52" L x 18" W reversible crib rail guard
Two 26" W x 50" L x11" D fitted crib sheets
26" W x 50" L reversible crib skirt with a 7" drop
10'x 8" decorative bunting
Two 40" L x 34" W printed trim baby blankets
22" L x 18" W x 10" H tote bag
12" W x 24" H musical mobile

Crib guard stretches the length of the crib and folds in half over the top
Set is 65% polyester/35% cotton
Machine wash in cold water
30-day manufacturer's warranty
Imported
Mobile WARNING: Possible entanglement injury. Keep out of baby's reach. Remove mobile from crib or playpen when baby begins to push up on hands and knees.
SKU # 40981413
Related Searches
Similar Products