Personalization is required to add item to cart or registry.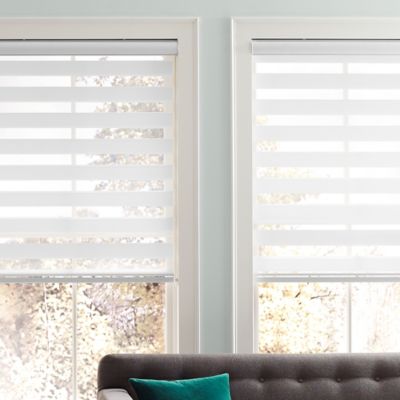 Alternate image 1 for Real Simple® Sheer Layered 30-Inch x 72-Inch Shade in White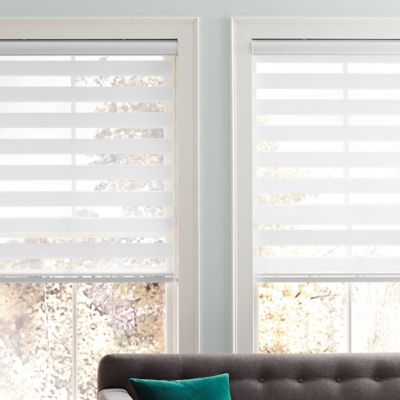 Watch the video for Real Simple® Sheer Layered 30-Inch x 72-Inch Shade in White
▶
Similar Items
The item you viewed above is out of stock. We also suggest:
Add an elegant touch to any room with the Real Simple® Sheer Layered Shade
This attractive shade offers privacy when closed, beautifully filters light while open and still provides UV protection
The shade also provides a clean look when completely open and rolls up into the head rail
For indoor use only
100% polyester with a steel head rail
Brush or vacuum (use your vacuum's round brush) to clean
Imported
SKU # 40756103
View More
Real Simple Layered ShadesHi, I'm Kris from Real Simple and this is the layered shade from the Real Simple Solutions Window Collection available exclusively at Bed Bath & Beyond. This stylish shade softly diffuses light, yet provides privacy when both layers of fabric overlap. The clean profile of the head rail allows the blinds to fully retract inside allowing full view out of your window when desired. Plus, it has a continuous chord loop that safely raises and lowers the shade without any dangling chords. These light filtering sheer shades are wonderful because they provide the beauty of a sheer with the privacy of a shade at a fraction of the cost of a custom window shades. It's available in white and natural and a wide range of sizes to fit most standard size windows. And no need to worry about installation. It's easy. Just follow the simple directions on the box for an inside or outside mount. All of the mounting hardware is included. The only tools you'll need are a tape measure, level, screw driver and a drill. The layered shade and the Real Simple Solutions Window Collection are available online and at select Bed Bath & Beyond stores.
Related Searches
Start
Please enter the address, city, state where you will be starting.
Destination
Make Favorite Store

Sign Up for Info & Offers
Have a Question?
Help is always available at 1-800-GO-BEYOND®
(1-800-462-3966). Please view our Returns Policy if you aren't satisfied with your order.
Buy Real Simple® Sheer Layered 30-Inch x 72-Inch Shade in White from Bed Bath & Beyond

Featured by:
title
,
brand
,
price
,
popularity
,
favorites
,
most recent
Popular Searches by:
popularity
,
our choices
,
all-round favorites
,
title
,
most recent
Popular Categories by:
title
,
popularity
,
seasonality
,
our choices
,
bestsellers
Products by:
title
,
brand
,
price
,
popularity
,
favorites
,
most recent
Previous: Real Simple® Sheer Layered 30-Inch x 72-Inch Shade in Natural
Next: Real Simple® Sheer Layered 31-Inch x 72-Inch Shade in Natural
© 2018 Bed Bath & Beyond Inc. and its subsidiaries | Build : 2.09.14.002 | Build From : 2018032715375816613d9 | Build Created On : GIT Build Date is 29