Personalization is required to add item to cart or registry.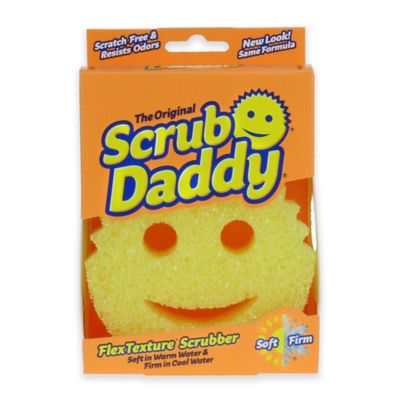 Alternate image 1 for Scrub Daddy® Original Sponge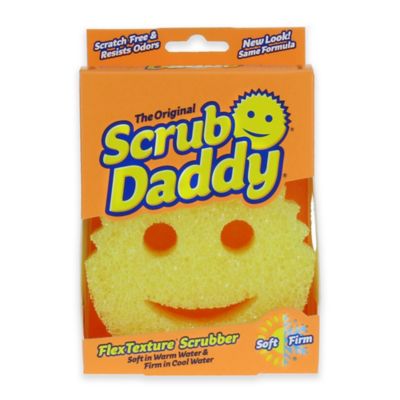 Watch the video for Scrub Daddy® Original Sponge
▶
Similar Items
The item you viewed above is out of stock. We also suggest:
Can be used as a sponge or a scrubber depending on water temperature (soft in warm water, hard/coarse in cold water)
Completely rinses clean so it will not retain any odors or trap food and dirt particles for lasting use
Scratch-free and easy grip design
Measures 3.75" diameter and 1.5" H
Made in USA of imported materials
SKU # 20094881
View More
Scrub Daddy Cleaning Sponge
The unique smile-faced design of the Scrub Daddy allows you to access the bottom of cups, bowls, mugs, even coffee pots. And get to the bottom and clean the sides, by just spinning it around.
It has the added feature of protecting your fingernails and your manicure from banging the surfaces that you're working on.
He can get to the bottom of muffin tins and bakeware, without scratching that non-stick surface.
The mouth cleans spoons, knives, forks, and spatulas.
He's so cute, you can even get your kids to do the dishes.
And he stores on the sink and dries in about an hour. He won't scratch stainless-steel appliances or even the wheels of your car, which means he's useable indoors and outdoors. Even on the barbecue and on the lawn furniture, without causing any scratches.
Indoors, he's great in the bathroom for removing the toothpaste and soap scum from bathtubs and showers.
The uses for Scrub Daddy are endless. Get yours today.
Related Searches
Same Day Delivery Exclusions
Same Day Delivery is not available for items that ship directly from the vendor or furniture items delivered by truck.