Personalization is required to add item to cart or registry.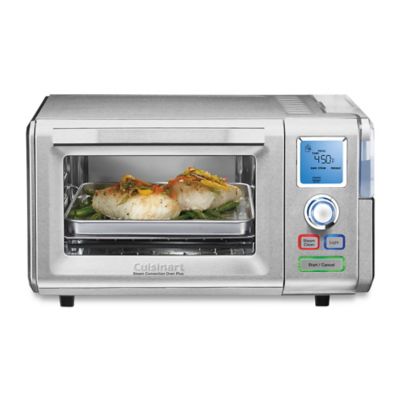 Alternate image 1 for Cuisinart® Steam and Convection Oven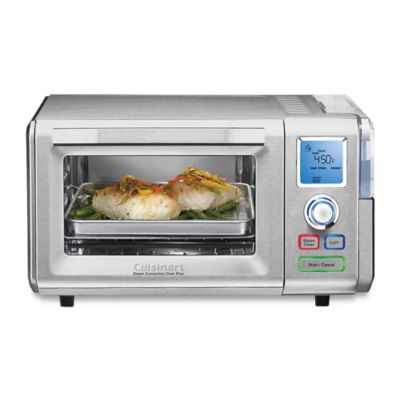 Watch the video for Cuisinart® Steam and Convection Oven
▶
Similar Items
The item you viewed above is out of stock. We also suggest:
The Cuisinart® Steam and Convection Oven lets you broil and bake
Steam heat cuts cooking time by as much 40% and convection circulates hot air throughout the oven to cook food more evenly, at lower temperatures, and often with better and faster results
LCD digital control panel with control knob
0.60 cubic foot/47 oz. removable water reservoir
Timer and auto shutoff function for safe and convenient operation
Includes:

47 oz. removable water reservoir
Wire rack
Baking pan
Broiling rack
Crumb tray
Drip tray

Can accommodate up to a 4.5 lb. chicken/turkey
Stainless steel construction
Wipe clean
Measures 19.75" L x 15" W x 11" H
UL listed
Weighs 22 lb.
3-year manufacturer's warranty
Imported
Model CSO-300N1
SKU # 41571088
View More
Cuisinart® Steam and Convection OvenMeet the most advanced countertop oven on the market today, the Cuisinart Combo Convection Steam Oven. Now the power of a professional grade steam oven can fit on your own counter allowing you to cook like never before! The Cuisinart Combo Convection Steam Oven combines all of the traditional features of a countertop toaster oven broiler with the powerful combination of steam and convection baking! It also steam broils, super steams, proofs and bakes breads and keeps foods warm. Plus it even toasts like a conventional toaster oven broiler. Steam baking allows food to retain more moisture and requires no oil providing healthier, juicier and more succulent foods! And with the combination of 120 minutes of uninterrupted steam heat and convection cooking you can cook foods up to 40% faster than a traditional oven! The Cuisinart Combo Convection Steam Oven bakes breads, rolls and homemade pretzels plus even doughnuts and pizza dough. And with its specialized proofing technology you can prepare and bake your breads with artisan results. Use the unique Steam Bake and Steam Broil features to cook your favorite dishes while retaining moisture for more flavor and less fat. Choose the steam feature to steam vegetables, fish and even rice. Or when you reheat leftovers for next day meals, they won't dry out. The Cuisinart Combo Convection Steam Oven has 9 preset cooking functions including, convection bake, keep warm and super steam! The generous interior space measures .60 cubic feet and can accommodate a whole 4.5 pound chicken or a 12" pizza even though the exterior size is engineered to take up very little counter space. The Cuisinart Combo Convection Steam Oven features a 47 ounce removable water reservoir, generously-sized blue display and comes with a wire rack, baking pan, broiling rack, crumb tray and drip tray. Use the oven in the summer when you do not want to heat up the entire house with a conventional oven or use it to perform perfectly as a second oven while entertaining. Baking, broiling, toasting and steaming have never been so effortless or more efficient. Get the most out of your countertop space with ease by bringing professional grade cooking technology to your kitchen today with the Cuisinart Combo Convection Steam Oven.
Related Searches
Same Day Delivery Exclusions
Same Day Delivery is not available for items that ship directly from the vendor or furniture items delivered by truck.