Personalization is required to add item to cart or registry.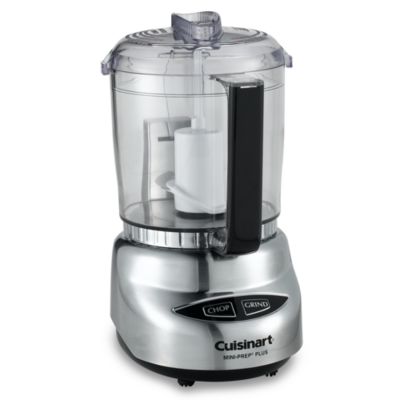 Alternate image 1 for Cuisinart® 4-Cup Mini Food Processor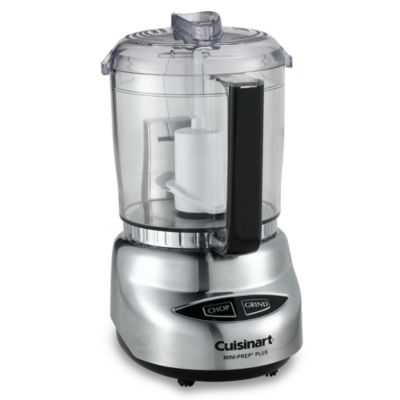 Watch the video for Cuisinart® 4-Cup Mini Food Processor
▶
Similar Items
The item you viewed above is out of stock. We also suggest:
Cuisinart Mini Prep Plus 4 Cup Food Processor adds a touch of elegance to your kitchen
Includes:

Stainless steel blade with sharp, blunt edges
Spatula, easy-to-use touch pad controls
Auto-reversing SmartPower blade
32-ounce work bowl with handle
Instruction/recipe book

Dishwasher safe parts
Measures 5.38" L x 7.63" W x 9.94" H
Weighs 3.4 lb.
1-1/2-year limited manufacturer's warranty
Model DLC 4CHB
SKU # 15086491
View More
Cuisinart DLC 4CHB Mini Prep Plus Food Processor
Hi, I'm Mary Rogers, director of marketing communications for Cuisinart. This is the Cuisinart Mini Prep Plus. It has a beautiful, elegant, stainless finish. It's four cups. The work bowl can go right in the dishwasher, along with all removable parts. So cleanup is really easy and simple. It has a really nice work bowl handle. You can remove the entire bowl mechanism off the base like that and put it back on, lock it into place. It has a smart power auto reversing blade. You basically mount the blade inside, put the lid on, put your ingredients in, put the lid on, and when you press chop, what happens is the blade will spin in the direction of which the sharp side will touch the food. You should only use the chop feature when you're doing soft fleshed items.
Use the grind feature when you're using hard items, such as nutmeg, hard parmesan cheese, and even peppercorns. You could also use that for lots of other things. You could also use the four cup mini plus to make a small batch of tuna fish or even salsa. Maybe some pesto. It comes in really handy for every day food prep tasks.
Related Searches
Same Day Delivery Exclusions
Same Day Delivery is not available for items that ship directly from the vendor or furniture items delivered by truck.