Personalization is required to add item to cart or registry.
Alternate image 1 for Cuisinart® Citrus Juicer Attachment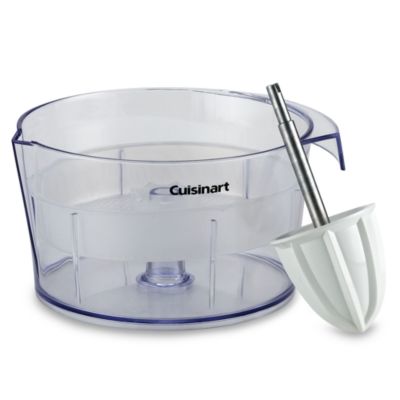 Watch the video for Cuisinart® Citrus Juicer Attachment
▶
Similar Items
The item you viewed above is out of stock. We also suggest:
It's easy - just attach the juicer to the mid-speed power outlet and enjoy fresh-squeezed orange or grapefruit juice
You can create all-time favorite drinks like margaritas, summertime coolers or exotic party drinks.
Includes instruction/recipe book
16-ounce capacity
Measures 7.5"L x 6.5"W x 6"H
Imported
SKU # 14649611
Features
| | |
| --- | --- |
| Capacity | 16 ounce capacity |
Specifications
| | |
| --- | --- |
| Color | CLEAR |
| Product Depth (in) | 6.5 |
| Product Width (in) | 7.5 |
| | |
| --- | --- |
| Product Height (in) | 6 |
| Part or Model Number | SM-CJ |
| Product Type | Attachment - Juicer |
View More
Cuisinart Juicer Stand Mixer Attachment SM
Hi, I'm Mary Rogers, Director of Marketing Communications for Cuisinart. This is the Cuisinart Stand Mixer. There are lots of great attachments that you can get separately for your stand mixer.
Here we go. I'm gonna show you how to use the citrus juicer today. This is the mid speed power outlet. You need to remove this plug first, and it's nice because you can use the back end of the reamer to do that. You take the plug out and you put the stem in. You just do that by twisting.
Now all you do is you mount your citrus juicer right on top, and then you put the reamer inside. This is actually really, really good because you can get lots of your Vitamin C on a daily basis. You can make fresh juice. You can also make fresh squeezed lemon juice that you can use as an ingredient in other cooking things, like for a vinaigrette.
This is really nice because it's a universal reamer. This holds anything from a lime all the way up to a grapefruit. You just press on it while the machine is running, and that's how you make your citrus. There's a strainer in the top that'll keep your pulp separate from the juice. A trick to remove it is to just twist this until the stem is released, and there you go. It's a great way to use your stand mixer to make fresh juice every day.
Related Searches
Same Day Delivery Exclusions
Same Day Delivery is not available for items that ship directly from the vendor or furniture items delivered by truck.