Personalization is required to add item to cart or registry.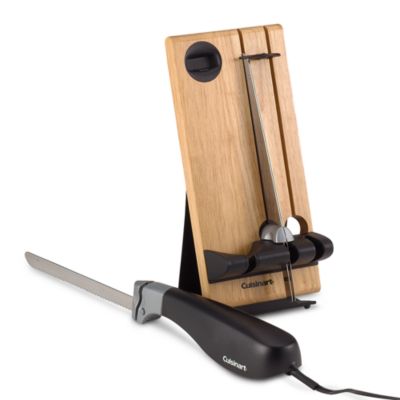 Alternate image 1 for Cuisinart® Electric Knife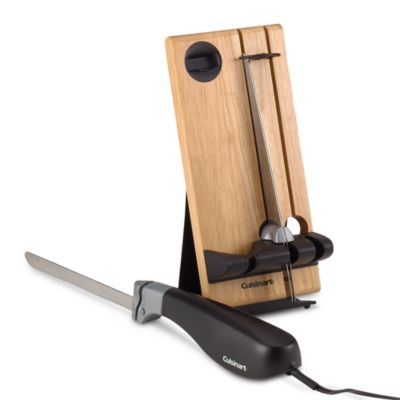 Alternate image 2 for Cuisinart® Electric Knife
Watch the video for Cuisinart® Electric Knife
▶
Similar Items
The item you viewed above is out of stock. We also suggest:
Cuisinart Electric Knife features an ergonomically designed handle for right- or left-handed people
Includes:

Stainless steel bread blade
Stainless steel carving blade
Storage stand

Solid wood storage stand keeps blades in place and features a safety lock system so you can store it in a drawer or right on the counter
Measures: 17.5" L x 2.38" W x 2.13" H
UL listed
3-year manufacturer's warranty
Imported
Model CEK-40
SKU # 11980996
View More
Cuisinart CEK 40 Electric Knife
Hi, I'm Mary Rogers with Cuisinart. This is Cuisinart's electric knife. It's very versatile. It's great for cutting roasts. It has a switch here, which locks it, which I just press to release it so that it can work. But I'm going to show you how simple and easy it is to just carve a chicken. Look how juicy that is. Going to put it aside. And the other thing that's really great about electric, this electric knife, is that you don't have to use a lot of pressure. It's really ergonomic to hold and it's so simple and easy to use. I'm just going to take that off of there. And now what I'm going to do is show you how easy it is to switch blades. There's two little buttons right here. You just press it and lift the blade out. And now we're going to put in the bread blade. Just slip it right in. And now we're going to cut some bread. The nice thing about having an electric knife is that, you know, there are so many breads out there that are beautiful artisan breads that you don't want to cut before you use it. You can cut really thick slices, if you want. Look how easy that is. Or you can cut thin slices for sandwiches. You'll notice, too, that it comes with this storage block, which is wood. The nice thing about it is that it has a little lock here so that you lift it up, and you turn it and it actually locks the blades right into place and then you can put the housing right here and it snaps right into place. You can store this standing up or remove this, and you can actually store it right in your drawer n your kitchen. And there you have it: a really versatile product, especially when you're having company, it's a really quick and easy way to carve your roasts and keep stress free.
Related Searches
Same Day Delivery Exclusions
Same Day Delivery is not available for items that ship directly from the vendor or furniture items delivered by truck.