Personalization is required to add item to cart or registry.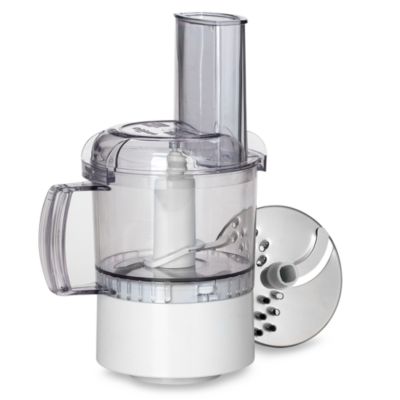 Alternate image 1 for Cuisinart® Food Processor Stand Mixer Attachment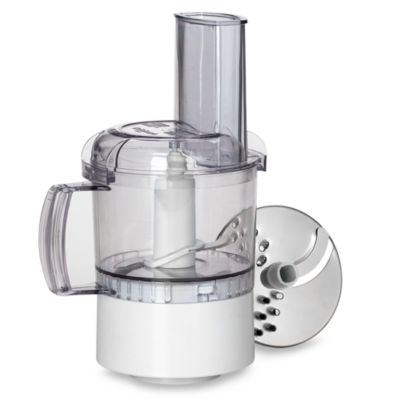 Watch the video for Cuisinart® Food Processor Stand Mixer Attachment
▶
Similar Items
The item you viewed above is out of stock. We also suggest:
A reversible slicing/shredding disk makes quick work of slicing vegetables and shredding hard cheese with the Cuisinart® Food Processor Stand Mixer Attachment
Food processing has never been so easy
Attachment connects to the high-speed power outlet on any Cuisinart® Stand Mixer to chop nuts, puree soup or mix soups and sauces
Measures 7" L x 5.3" W x 11.5" H
Imported
Model SM-FP
SKU # 14649590
View More
Cuisinart SM FP Food Processor Mixer Attachment
Hi, I'm Mary Rogers, Director of Marketing Communications for Cuisinart. This is the Cuisinart Stand Mixer. You can get several different attachments separately.
This one happens to be our proprietary food processor attachment. It mounts here on the high-speed power outlet just by going like this. You line it up and you twist it to lock it into place. This can actually be used as a chopper or grinder. You can use it to do anything like chop nuts, herbs, make a vinaigrette, make a small batch of salsa.
You open the lid like this, and you can remove the - the proprietary chopping blade. You put in the stem like that, and now you can mount the reversible slicing or shredding disc. On this side, it's slicing. On that side, it's shredding. You just pop it in like that, put the lid back on, twist it, remove the feed tube, and now you can slice and shred by putting your food right through the feed tube.
All of the removable parts are dishwasher safe. It's a great way to be able to slice and shred with your Cuisinart Stand Mixer.
Same Day Delivery Exclusions
Same Day Delivery is not available for items that ship directly from the vendor or furniture items delivered by truck.