Personalization is required to add item to cart or registry.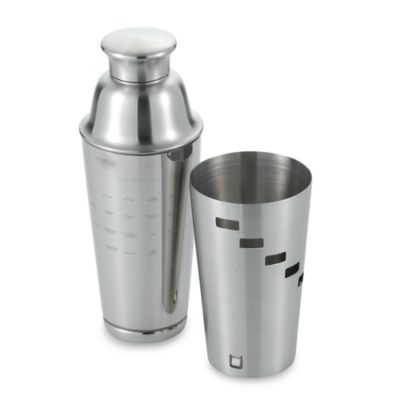 Alternate image 1 for Oggi™ Dial A Drink™ Stainless Steel Cocktail Shaker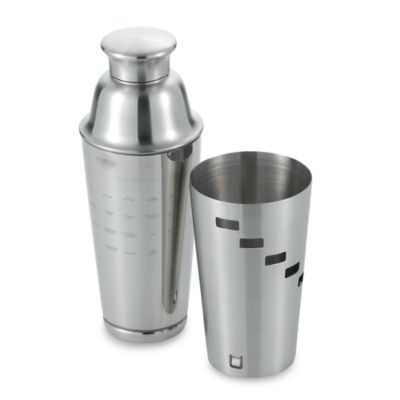 Alternate image 2 for Oggi™ Dial A Drink™ Stainless Steel Cocktail Shaker
Watch the video for Oggi™ Dial A Drink™ Stainless Steel Cocktail Shaker
▶
Similar Items
The item you viewed above is out of stock. We also suggest:
The recipe dialer insert turns to reveal one drink and its recipe at a time, making you an expert bartender at any party
Set includes:

Cap
Strainer top
34 oz. shaker
Recipe dialer with 15 cocktail recipes

Recipes include:

Mai Tai
Rum Runner
Margarita
Strawberry Daiquiri
Hurricane
Sex on the Beach
Pina Colada
Kamikaze
Lemon Drop
Old Fashion
Cosmo
South Beach
Appletini
Martini
Bay Breeze

Top of the shaker has a built-in strainer
Hand wash
SKU # 14243941
View More
Dial-A-Drink Cocktail Shaker
Hi, I'm Michelle from Bed Bath & Beyond, and I'm here to tell you about the Dial-a-Drink Cocktail Shaker. Now you can be the perfect bartender at home with this great-looking stainless steel cocktail shaker set. It includes a 34-ounce stainless steel shaker, a recipe dialer, a strainer top, and a cap.
You can select from 15 of your favorite cocktail recipes and make each one to perfection. They are all permanently etched to the outside of the shaker. Recipes include classics like margarita, old-fashioned, and cosmopolitan, and new favorites like an appletini.
To use, simply insert the shaker into the recipe dialer. Turn the base to line up your favorite recipe on the shaker with the arrow on the dialer. Once you've done this, the recipe for the drink you selected will appear in the openings on the dialer. Simply follow the recipe and pour the ingredients into the shaker. Put on the strainer and the cap and shake away. Remove the cap and pour the perfect cocktail.
The Dial-a-Drink Cocktail Shaker is available online and at a Bed Bath & Beyond store near you.
Related Searches
Same Day Delivery Exclusions
Same Day Delivery is not available for items that ship directly from the vendor or furniture items delivered by truck.