Personalization is required to add item to cart or registry.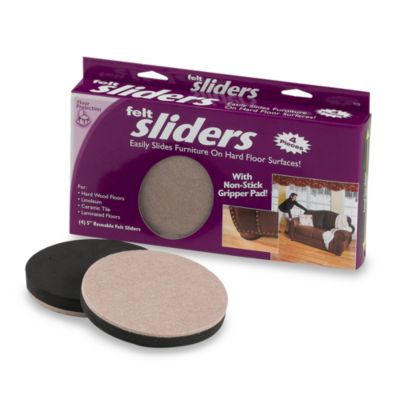 Alternate image 1 for EZ Sliders® 4-Pack Round 5-Inch Felt Movers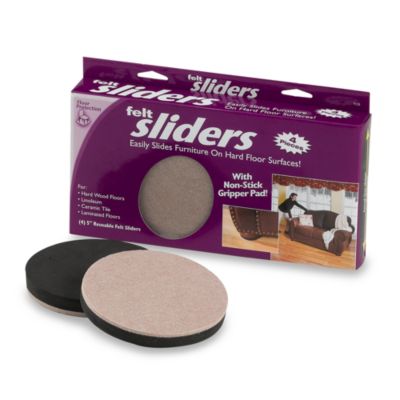 Watch the video for EZ Sliders® 4-Pack Round 5-Inch Felt Movers
▶
Similar Items
The item you viewed above is out of stock. We also suggest:
Felt floor protectors
Good on all floor types
Easy-to-use self-stick felt pads with nonstick grippers
Includes 4 round felt movers measuring 5" each
SKU # 13005931
View More
EZ Slider
How do you move a sofa all by yourself? Very slowly. And that china cabinet across your hardwood floor? Very carefully. And how about that 200-pound washer? Well, you'll be amazed at what you can move with EZ Sliders, the sliding disks that everyone is talking about, available at Bed Bath & Beyond.
Take that sofa, for example. Just slip an EZ Slider under each leg, and you're sliding it over carpeting with ease. They also come with soft fabric pads that simply slip on to protect your beautiful, expensive hardwood floors as you easily slide furniture along. Able to help you move up to 750 pounds, imagine all that you can do with EZ Sliders.
Best of all, EZ Sliders work on hardwood floors, carpet, vinyl, cement, ceramic tile, and more. Ready to take on that washing machine? It's a cinch with EZ Sliders. They're great for moving bulky appliances easily, from your washer and dryer to your range, refrigerator, and more. In fact, move up to four items at once, even rearrange a room, with EZ Slider Multipacks in the handy, reusable container.
Got a really big item to move, like your entertainment center? Go with larger size EZ Sliders, and you'll definitely be amazed at what you can move easily and reassuredly because EZ Sliders have a nonstick, padded side that keeps a firm grip on furniture.
No matter the size of the job, there's an ideal pack of EZ Sliders for any item or room, including our 16-piece moving pack to move every room of furniture in your house.
What else can you move with EZ Sliders? Just about anything around the house.
For ultimate ease and floor protection, you've got to get EZ Sliders. So be sure to pick up yours while you're here at Bed Bath & Beyond.
Related Searches
Same Day Delivery Exclusions
Same Day Delivery is not available for items that ship directly from the vendor or furniture items delivered by truck.