Personalization is required to add item to cart or registry.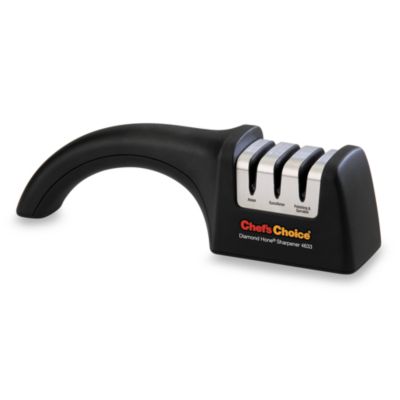 Alternate image 1 for Chef'sChoice® AngleSelect 4633 Professional Knife Sharpener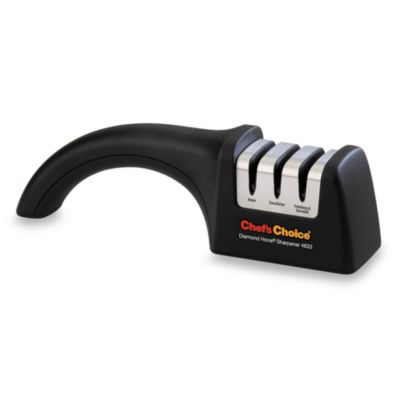 Watch the video for Chef'sChoice® AngleSelect 4633 Professional Knife Sharpener
▶
Similar Items
The item you viewed above is out of stock. We also suggest:
It will quickly and easily sharpen virtually all quality cutlery including straight edge kitchen and household knives as well as Santoku, sports, pocket and serrated knives.
The sharpener features separate sharpening and honing stages to provide razor sharp double bevel edges that are stronger and last longer.
All three stages use Chef'sChoice signature 100% diamond abrasives.
It requires no guesswork and is fast and easy to use whether you are right or left-handed.
The ergonomic curved handle fits all hands and the slip resistant rubber feet hold fast to the work surface.
SKU # 17762613
View More
AngleSelect 4633 Professional Knife Sharpener
Hi, I'm Nancy from Bed, Bath & Beyond and I'm here to tell you about the Chef'sChoice AngleSelect Manual DiamondHone Knife Sharpener.
Chef'sChoice is a leader in producing both manual and electric knife sharpeners that you can use on professional-quality cutlery.
The AngleSelect Manual Knife Sharpener can be used on European and American straight-edge style cutlery, Asian-style cutlery, and serrated-edge knives. It can also be used for sporting and pocket knives.
Properly caring for your knives is the first step in knife safety. A dull knife will always be an unsafe knife, and the sharper your knife is the easier it'll be to chop.
If you're having to exert too much effort when you're chopping food it probably means that your knives need to be sharpened.
This three-stage manual knife sharpener has separate sharpening stages for Asian cutlery, Euro-American cutlery, and a separate stage for polishing and serrated knives. All three stages use a hundred percent diamond abrasives. Because of their extreme hardness diamond abrasives sharpen without overheating or damaging the blade. The result is a perfectly sharp, safe knife that holds its edge longer.
The sharpener also has a comfortable handle and slip-resistant feet to keep the sharpener safely on your work surface.
Let me explain the basics to sharpening your knives. First, always be sure to start with a clean blade. For straight-edge cutlery begin in stage two and move in a back-and-forth motion, then to stage three for honing and polishing.
For Santoku knives begin in stage one moving in a back-and-forth motion, then to stage three for honing and polishing.
Serrated knives should only be sharpened using stage three to achieve that razor sharp edge.
Your knives are one of the most important tools in your kitchen. So always make sure you check out the manual that comes with the sharpener for a complete list of details and tips on how to sharpen all different types of knives.
The Chef'sChoice AngleSelect Manual Knife Sharpener is available online and at a Bed, Bath & Beyond store near you.
Related Searches
Same Day Delivery Exclusions
Same Day Delivery is not available for items that ship directly from the vendor or furniture items delivered by truck.