Personalization is required to add item to cart or registry.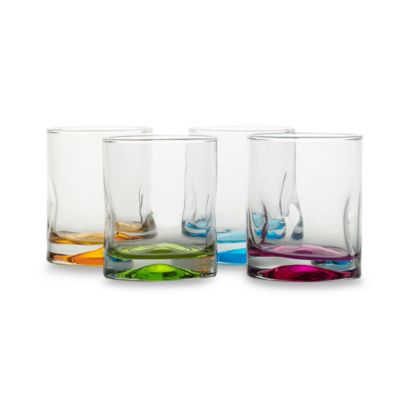 Alternate image 1 for Libbey® Impressions Colors Double-Old Fashioned 4-Piece Set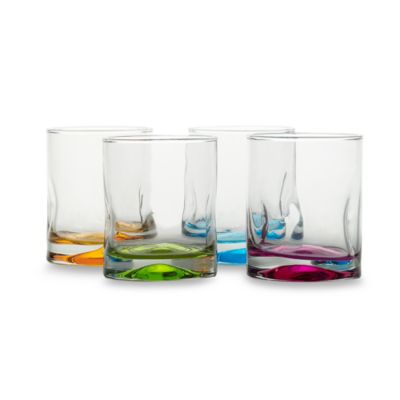 Watch the video for Libbey® Impressions Colors Double-Old Fashioned 4-Piece Set
▶
Similar Items
The item you viewed above is out of stock. We also suggest:
Each glass has an 11.75 oz. capacity
Dishwasher safe
SKU # 18079674
View More
Libbey® Impressions
Hi. I'm Nancy, from Bed, Bath & Beyond and I'm here to tell you about the colors Drink Ware collection by Libbey.
This beautiful glassware collection is available in five different sets. It's great for everyday use and for entertaining. Each glass in a set has a different color base making it easier for your guests to determine which glass is theirs. You can use these glasses just for water.
As you can see how beautifully the light reflects from the color of the base up to the glass creating an optical illusion. This glassware adds a beautiful splash of color to any table.
The set of four 12 ounce Margarita glasses have this great looking Z shaped stem. The highball glass is 16 ½ ounces and the double old fashion is 12 ounces. Both come in sets of four and have unique impressions on the sides making them easy to hold.
The shot glasses come in a set of 6, they're two ounces and they come in six different colors within the set. And the pitcher set comes with four high ball glasses, 16 ½ ounces each, and this great looking pitcher which is perfect for serving all your favorite beverages.
This glassware collection is a great gift for a bride, for a new home, or for your own table. It'll brighten up any party. The colors Drink Ware collection by Libbey is available online and at a Bed Bath & Beyond store near you.
Same Day Delivery Exclusions
Same Day Delivery is not available for items that ship directly from the vendor or furniture items delivered by truck.