Personalization is required to add item to cart or registry.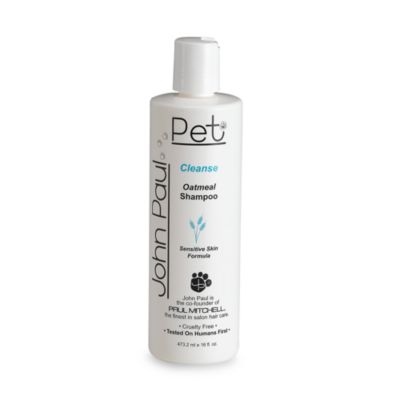 Alternate image 1 for John Paul Pet 16 fl. oz. Oatmeal Shampoo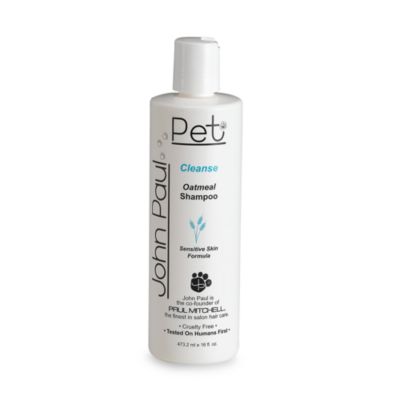 Watch the video for John Paul Pet 16 fl. oz. Oatmeal Shampoo
▶
Similar Items
The item you viewed above is out of stock. We also suggest:
John Paul Pet Oatmeal Shampoo is a special sensitive skin formulation
Cleanses and conditions dry, itchy skin with pure oatmeal, aloe vera gel and sweet almond oil to promote healthy hair for your pets
Works well in conjunction with other John Paul Pet products
16 fl. oz.
Imported
SKU # 16349569
View More
John Paul Pet
Hello. I'm the John Paul in John Paul Pet, and I wanted to tell you for just a couple of minutes here why John Paul Pet is different. For one, in our unique shampoos, we match the dogs' and cats' pH. Another thing we do in our products is we have a botanical blend that is geared towards moisturizing and conditioning the fur. Also, it's made to use as it is. Use it right out of the bottle. At John Paul Pet, it's all about creating a pet line for the pets, and I'm very, very proud to say it's available here. Give it a try. Oatmeal shampoo; our all purpose, most popular shampoo, great for sensitive skin, also soothes and conditions. Tea tree shampoo; it works to relieve hot spots. It's safe for the environment and for our pets. It also moisturizes their coats. Tearless shampoo; it's a gentle shampoo that's safe for washing your pets' faces and bodies. And we have our waterless shampoo for dogs and cats, our innovative shampoo that requires no water, and it's so easy to apply.
Oatmeal conditioning rinse, to be used with all of our shampoos, it conditions and moisturizes our pets. It also helps out with the detangling. Tea tree conditioning spray; this spray will not only keep the moisture in, but it will help to make the coat look good also. We have some really fabulous wipes. For example, our ear and eye wipe takes care of that bacteria buildup and keeps our pets very, very healthy. And then, we take a look at our full body and paw wipe. During the day, take them with you. Take it in between the paws to clean out any bacteria or dirt that was picked up on our wonderful pets. Then, there's the teeth and gum wipes. Now, here we use baking soda and mint to help get rid of those stains and leave the breath really, really fresh.
Related Searches
Same Day Delivery Exclusions
Same Day Delivery is not available for items that ship directly from the vendor or furniture items delivered by truck.