Personalization is required to add item to cart or registry.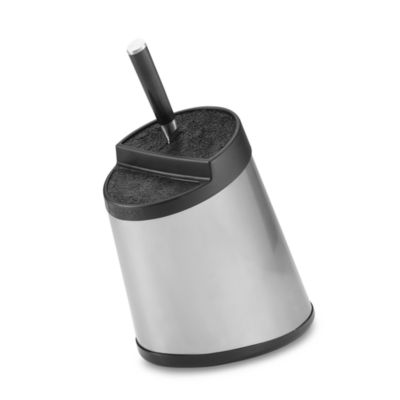 Alternate image 1 for Kapoosh Slotless Stainless Steel Knife Block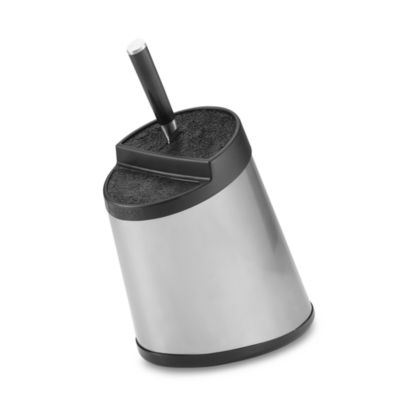 Watch the video for Kapoosh Slotless Stainless Steel Knife Block
▶
Similar Items
The item you viewed above is out of stock. We also suggest:
Kapoosh Stainless Steel Knife Block Mix features food safe polypropylene Freedom Rods that allow you to easily store and organize knives of varying shapes and sizes from different cutlery sets
Conforms to your cutlery and gentler on knives than wood blocks
Dual chamber design for easy organization
Stainless steel housing
Wipe clean exterior
Rods are removable and dishwasher safe (top rack only) for easy cleaning
Measures 7.25" W x 10.75" L x 12.75" H
Imported
SKU # 14024263
View More
Kapoosh Universal Cutlery Block
Does your knife drawer look like this? All mixed up, all those sharp edges waiting to cut you as you hunt for the right knife? Meet the Kapoosh Knife Block, the smart knife organizer that's perfect for every knife you own.
Are you tired of trying to play find the slot with your old wood block? Want to store different knives, more knives? No way. The convenient Kapoosh holds every type of knife; big, small, all handle types, even utensils. Look how easily they go in and how many. Based on the unique freedom rods, knives go in anywhere and stay there safe, clean, and ready to go.
A slot in a wood knife block can dull a sliding knife and can be a secret breeding ground for bacteria. In a Kapoosh, the knife-edge never contacts something that can dull it. It's a snap to clean. It's even dishwasher safe. Why get aggravated? Get organized with the Kapoosh Knife Block from Commercial Culinary Concepts. Get yours today, right here.
Related Searches
Same Day Delivery Exclusions
Same Day Delivery is not available for items that ship directly from the vendor or furniture items delivered by truck.