Personalization is required to add item to cart or registry.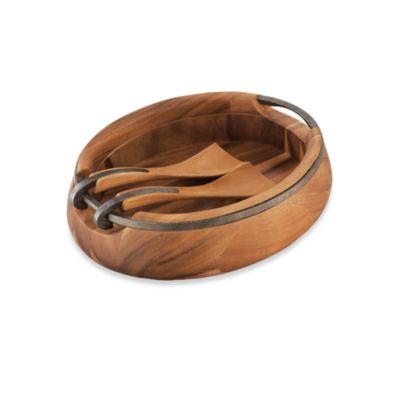 Alternate image 1 for Nambe Anvil Salad Bowl with Server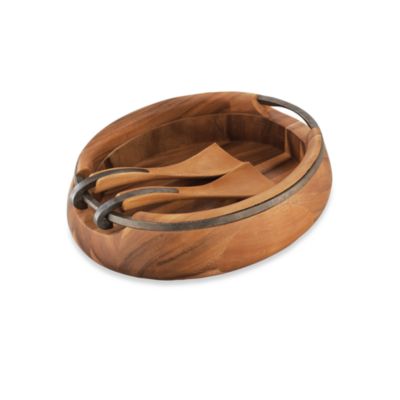 Watch the video for Nambe Anvil Salad Bowl with Server
▶
Similar Items
The item you viewed above is out of stock. We also suggest:
A pair of matching, softly fluted servers curve gently around the bowl's rim to form a fitting resting place.
Measures 5" H x 13" W x 16" L.
Hand wash only.
SKU # 18094363
View More
Anvil Collection by Nambe
Hi, I'm Michelle from Bed Bath and Beyond, and I am here to tell you about the Anvil Collection by Nambe. This collection is inspired by traditional wrought iron design. Each piece combines two unique finishes, a polish, zinc colored alloy combined with eight aluminum based alloy. Each piece is unique in its handcrafted finish. The entire surface is covered with the food safe lacquer and will not tarnish, chip, or peal. It's also refrigerator safe.
Anvil displays an updated, traditional look for any home and makes entertaining easy. It's the perfect gift for the new bride, a new home, or for the seasoned entertainer. It's easy to care for. Simply wash it with a mild soap and water, using a non-abrasive cloth. This collection is not dishwasher, stovetop, or microwave safe. The coating will scratch if a knife or sharp object is used on the surface. The Anvil Collection by Nambe is available online and at a Bed Bath and Beyond store near you.
Related Searches
Same Day Delivery Exclusions
Same Day Delivery is not available for items that ship directly from the vendor or furniture items delivered by truck.