Personalization is required to add item to cart or registry.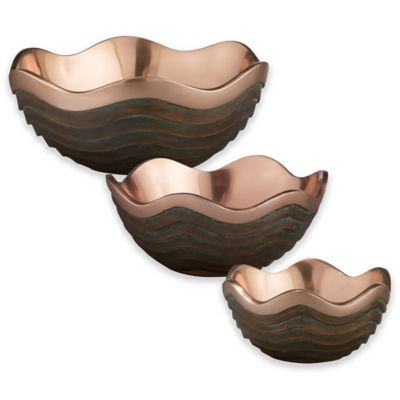 Alternate image 1 for Nambe Copper Canyon Bowl Collection
Watch the video for Nambe Copper Canyon Bowl Collection
▶
Similar Items
The item you viewed above is out of stock. We also suggest:
The bowls are inspired by the canyons of the southwest.
The coppery sand and desert flora are referenced by the copper and verdigris on the ripples and ridges, the rim is scalloped in a symmetrical pattern and emphasized with ridged, wave-like verdigris sloping down to the bowl's flat bottom.
A smooth band at the top glows with copper's pure warmth.
Hand clean only.
View More
Copper Canyon Collection by Nambe
Hi, I am Michelle from Bed Bath and Beyond and I am here today to tell you about the Copper Canyon Collection by Nambe. This collection is inspired by the canyons of the southwest. It's made from an eight metal, aluminum based alloy coated with copper for heirloom quality durability. Each piece is unique in its handcrafted finish. You may even find some variations in color will exist. The entire surface is covered with a food safe lacquer and will not tarnish, chip or peal. It has a clear protective coating, which eliminates the need for polishing and is refrigerator safe.
Copper Canyon is beautiful in any home, or on any table and makes entertaining easy. It's the perfect gift for the new bride, a new home, and for the seasoned entertainer and is easy to care for. Simply wash it with mild soap and water using a non-abrasive cloth. This collection is not dishwasher, oven, stovetop or microwave safe. The coating will scratch is a knife or sharp object is used on the surface. The Copper Canyon Collection by Nambe is available online and at a Bed Bath and Beyond store near you.
>
Related Searches
Same Day Delivery Exclusions
Same Day Delivery is not available for items that ship directly from the vendor or furniture items delivered by truck.