Collapsible Laundry Basket
This image is no longer available.
SALT
Buy Collapsible Space Saving Laundry Basket in Grey
Current Location pathname : undefined and pageIdentifier PDP
Previous Location pathname : undefined and pageIdentifier
Recently Viewed cookies : undefined
Similar Products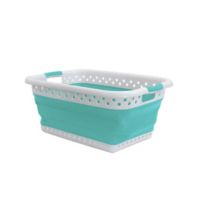 Collapsible Laundry Basket in Blue
Brand:

SALT

Colors:

Pool blue, grey/white, white/blue

Sizes:

Laundry bag, hamper

Categories:

College > Bath > Laundry
Hampers & Sorters > Hampers & Sorters
Laundry & Cleaning > All Laundry & Cleaning

This Space Saving Laundry Basket will make doing laundry a breeze. Lightweight and sturdy, the rubber handles make carrying a load easy. Ventilated to prevent smells, this large basket holds about 2 full loads of laundry. Collapses flat for easy storage.

CleverMade Ecobasket 15.5 Tote Bag in Blue/Grey

Brand:

CleverMade

Colors:

Blue/grey

Sizes:

15.5"

Categories:

Outdoor > Outdoor Dining & Entertaining > Picnic Baskets

CleverMade's EcoBasket is a collapsible tote bag that is a reusable and space-saving. The smart design combines packing, transport, and storage, to simplify shopping trips and day-to-day tasks. Durable with a water-resistant inner bottom.