Personalization is required to add item to cart or registry.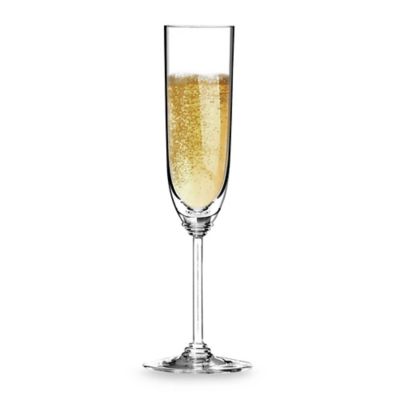 Alternate image 1 for Riedel® Champagne Toasting Flutes (Set of 2)
Watch the video for Riedel® Champagne Toasting Flutes (Set of 2)
▶
Similar Items
The item you viewed above is out of stock. We also suggest:
Glass designs are based on the exceptional characteristics of each grape variety
8-1/8 oz. capacity
Glass
Machine-blown pulled stem
Dishwasher safe
Imported
SKU # 16632830
View More
Riedel Wine Glass Collections
At Riedel, you not only have the choice in terms of grape-product specific, but also different choices when it comes to different collections for one particular grape variety.
Here, I have our Chardonnay Montrachet glass from the "O" Collection, which was introduced in 2004, which is the casual glass. This glass fits into your dishwasher. It can be stacked.
Then we have the Tyrol Collection, a collection which was recently introduced. A little bit more elegant. It's based on a pedal. It's a crystal glass; does extremely well for, once again, chardonnay.
Then we come to stemmed glasses. Here is the choice about looks. You need to know that our glasses are designed not on the drawing board, but truly through workshops. The wine industry comes together when we develop new glasses. But at the end, glassmakers are artisans, and what we try to give is at least some artifacts when it comes to the stem.
For example, the new Flow line. Here you see, we have a little bit of a thicker stem which is, when it comes to production, quite difficult. It's about the flow of the glass. This is where the name comes from, and makes the glass very durable.
At the same time, we have a collection called The Wine Series, which, again, the bowl is the same. The rim diameter is the same, which is key when it comes to the perception of wine. But here, again, the stem has a design influence.
The Extreme shape. What this diamond shape does is it's very good for New World wines. It helps the wine to open up; kind of a decanting within the glass.
Vitis, the latest collection, is a glass line, which is a two-piece construction. The Vitis line, "vitis" stands for "the vine" in Latin, has the longest stem in our glass collections. And the wine enters into the stem. While swirling the wine in this glass, it feels like you hold the bathtub in your hand. Beautiful feel.
And last, but not least, the mother of all glasses is our Sommeliers glass. This is a design from 1974 by Claus Josef Riedel, made in Austria. Twenty-five people producing, working on one glass.
Related Searches
Same Day Delivery Exclusions
Same Day Delivery is not available for items that ship directly from the vendor or furniture items delivered by truck.